by Robert
(Texas)
I have a atlas air compressor Xas 185 jd7 that starts up but once I let go of the crank position and it goes in to the run position it turns off won't stay on?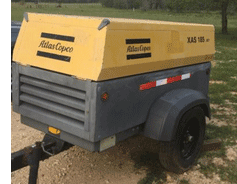 _______________________________
Atlas Xas 185 jd7 won't stay on
by Cesar
(Paterson N.J. U.S.A.)
Atlas Xas 185 jd7 won't stay on
It cut off right after I let the main switch go back
---
atlas xas wont stay running
by: gerry
i was reading this and i have the same issue. so i bypassed the temp switch and it runs about 60 seconds now then it dies. it will crank right back up and do the same thing again. thanks
---
Compressor Oil Temp Switch Under Compressor Pump
by: Gary Pearson
Your compressor oil temperature switch is bad. Take the two wires off and put them together and engine should start. Order another switch you do not want to run it long without it connected in case the compressor oil is getting too hot.
---
Have your own question about a Atlas XAS 185 JD7 that will not stay on? Please add your comment here along with photos to help others help you with your compressor and equipment problem!