by vernon crossman
(kingston n.s.)
My DeWalt 15 gal. up right portable compressor runs continuously,but wont build tank pressure unless i stop using it.
uses pressure quicker than i can use it.only used approx. 40 days ,new,but sat in its box for 2 yrs. spent $140 to have it looked at,but still has psi's that last for only minutes that take longer to build up.
i have to stop the air gun for it to build tank pressure.the tool being used is a small hand held pneumatic air gun/ chisel for fine carving.
_____________________
Vernon, in order to try to help, I need to know the HP of the motor on your air compressor, and I need to know the pressure and flow requirements of your air tool.
Unless what you are writing about is a change from before, what I am reading is telling me that your air compressor is far too small for the air tool you are trying to run.
Feel free to comment here if I've got it wrong.
____________________
DeWalt compressor
by: vernon
Hello Bill, thanks for your help!
The compressor is a Dewalt D55168 up right, portable, 200psi ,15 gal.,120 volt,1.6HP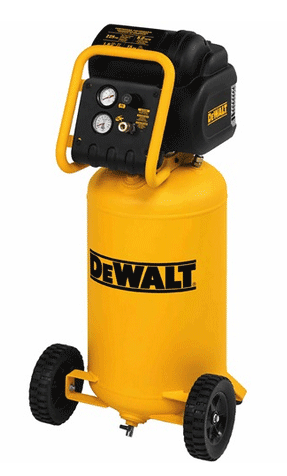 The carving pneumatic air gun i use at between 40-70psi usually. even on 40psi the comp.will not gain tank pressure while running the tool ,& will loose pressure until there's not enough to run it. It takes approx. 20 minutes to build 190 psi , & only approx. 5 minutes to use it.
I bought it, because of the DeWalt name & because oil is not needed , it refers to it as ,(HEAVY DUTY),but its the worst comp. i ever used.
______________
Vernon, pop over to the troubleshooting page, and have a read of the pages about why an air compressor will not build pressure. Based on what you are writing, I suspect you've got an issue with your air compressor valves or piston seal.
When you've checked it out, add a comment here with any more questions if you would like.
---
My DeWalt D55146 stops building pressure at 65 psi.
Cleaned and lubricated pressure regulator and it seems to be working good, can set it at anything below 65psi.
Compressor keeps running, but doesn't shut off and psi stays at 65. Also has good air intake flow. Any ideas? Thanks Roy
_______________
Please see the page linked from the troubleshooting page about why compressors run and don't build pressure. A good first step.
After you've done the checks referred to there, if you still have issues, please add a comment identifying what you found.