This article will serve as a hub for all DeWalt air compressor not building pressure issues. It's a very common problem for DeWalt air compressor will not build pressure, and so, this article will present the reasons why this occurs, along with existing reader questions and responses.
Table of Contents
Reasons DeWalt Air Compressor Not Building Pressure
The most likely reasons why your Craftsman air compressor won't build pressure are:
Failing intake valve
Gasket failure
Pump pressure valve failure
Piston seal failure
Compromised tank check valve
Please visit our Why An Air Compressor Won't Build Pressure & How To Fix A Compressor Not Building Pressure guide for detailed information on each, along with how to conduct the necessary checks!
Additional DeWalt Pages
Reader Questions & Responses
DeWalt Air Compressor Won't Build Pressure
Question
My DeWalt 15 gal upright portable compressor runs continuously, but won't build tank pressure unless I stop using it.
Uses pressure quicker than I can use it. Only used approx. 40 days, new, but sat in its box for 2 yrs. spent $140 to have it looked at, but still has psi's that last for only minutes that take longer to build up.
I have to stop the air gun for it to build tank pressure. The tool being used is a small handheld pneumatic air gun/ chisel for fine carving.
Response
Vernon, in order to try to help, I need to know the HP of the motor on your air compressor, and I need to know the pressure and flow requirements of your air tool.
Unless what you are writing about is a change from before, what I am reading is telling me that your air compressor is far too small for the air tool you are trying to run.
Feel free to comment here if I've got it wrong.
Question
Hello Bill, thanks for your help!
The compressor is a Dewalt D55168 upright, portable, 200psi,15 gal.,120 volts,1.6HP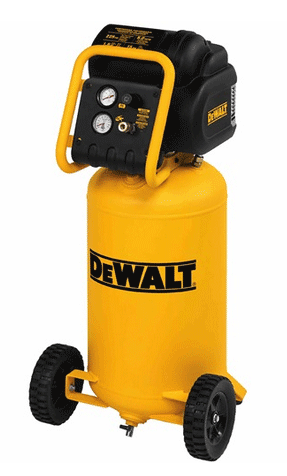 The carving pneumatic air gun I use at between 40-70psi usually. Even on 40psi the comp. Will not gain tank pressure while running the tool, & will lose pressure until there's not enough to run it. It takes approx. 20 minutes to build 190 psi, & only approx. 5 minutes to use it.
I bought it, because of the DeWalt name & because oil is not needed, it refers to it as,(HEAVY DUTY), but it's the worst compressor I ever used.
Response
Vernon, pop over to the troubleshooting page and have a read of the pages about why an air compressor will not build pressure. Based on what you are writing, I suspect you've got an issue with your air compressor valves or piston seal.
When you've checked it out, add a comment here with any more questions if you would like.
---
DeWalt Air Compressor Not Building Pressure – DeWalt Air Compressor Troubleshooting
Question
Cleaned and lubricated pressure regulator and it seems to be working well, can set it at anything below 65psi.
The compressor keeps running but doesn't shut off and psi stays at 65. Also has good air intake flow. Any ideas?
Thanks, Roy
Response
Please see the page linked from the troubleshooting page about why compressors run and don't build pressure. A good first step.
After you've done the checks referred to there, if you still have issues, please add a comment identifying what you found.
---
DeWalt Air Compressor Will Not Build Pressure – DeWalt Air Compressor Troubleshooting
My DeWalt 200psi d55146 will turn on but it won't build any air pressure and my regulator is stuck, and won't move.
I think that's why it won't build air pressure how do I fix the regulator?
Response
It's two separate issues, I'm afraid, Damien.
Even if the regulator is totally pooched, the compressor should pump the tank pressure up to the normal cut-out.
That you are not building air in the tank needs to be addressed before the regulator issue, I suspect.
There are many reasons why an air compressor can run but not build pressure. I've written about them on pages linked from the Troubleshooting page.
After that issue is resolved, if you still need help with the regulator, please comment.
---
If you have any questions about a DeWalt air compressor not building pressure, please leave a comment below, with a photo if applicable, so that someone can help you!