There have been many folks that wish to inquire about why their DeWalt air compressor not turning on and other questions along those same lines. This article will present some of the reasons this may be happening and DeWalt air compressor troubleshooting suggestions made to resolve those issues, along with existing reader questions and responses.
Table of Contents
Reasons Why Your DeWalt Air Compressor Won't Start
The main reasons as to why your DeWalt air compressor hums but won't start are likely to be due to any of the following reasons:
Power issue
Fuse or breaker blows
Faulty pressure switch
Faulty thermal overload switch
Faulty unloader valve
Insufficient oil
Your first check is to make sure the DeWalt compressor electrical power plug in the wall socket? You should also aim to avoid using power bars and power strips because they don't support the direct connection of machines to electricity sources.
If the compressor is creating an electrical fault then it'll likely pop the breaker or the fuse will blow when the compressor attempts to start again. Circuit breakers will trip off when a power surge blows their fuses. These circuit breakers generally offer protection for power panels and equipment. If the fuses are faulty, you will need fuse replacements before being able to start your air compressor.
Check the pressure switch of the DeWalt air compressor if it will not start. Unplug the DeWalt compressor from the electrical outlet before opening the drain valve releasing the air from the tank down to zero and then closing the drain.
Are you hearing a humming sound, or is any noise coming from the compressor motor? If not, double-check for a thermal overload button or a reset button on or around the motor. Another thing to check is if the unloader valve does not operate as that may be why your compressor will not start the next time the pressure switch sends power to the compressor motor.
Oil-lubricated air compressors need a constant supply of oil to be able to run efficiently. When the pump's oil level is below the manufacturer's specification, your air compressor might well be in danger. You should check the oil level, and inspect under the pump area for any potential leaks.
Please visit our Air Compressor Won't Start – Ways to Fix Air Compressor Won't Turn On Problems guide for more detailed DeWalt air compressor troubleshooting & fixes!
FAQs (Frequently Asked Questions)
Why did my Dewalt air compressor stop working?
If your DeWalt air compressor stops working, inspect the power supply unit before running checks for things such as an air leak, an oil leak or a broken part. In some cases, you might have insufficient pressurization or airflow. In other cases, the compressor might fail to start up or stop running as prompted.
What would cause an air compressor to not turn on?
There are a number of reasons why your air compressor may not turn on, these include power issues, fuse or breaker blows, faulty pressure switch, faulty thermal overload switch, faulty unloader valve, or insufficient oil.
Reader Questions & Responses
DeWalt Upright Electric Compressor Will Not Turn On
Question
I have a 1.5-year-old stand-up Dewalt compressor that will not turn on. It worked two weeks ago, and now nothing happens. You move the switch from Off to Auto and get nothing. No noise, no nothing. The tank is empty, not full so that is not the problem. It is plugged into a good outlet, that is not the problem. It is oil-less, that is not the problem. Any ideas? I spent $250 on a compressor for home use, I would expect it to last me many, many years. Thank you, by JC from Lakewood, CO.
Response
JC, I suggest you obtain a multi-meter and use it to check and see if power is flowing through the on/off switch when you turn it on.
If power is getting through the switch to the motor circuit, trace the motor circuit (possibly remove the end cap on the motor to see the wiring) and make sure power is getting into the wires and reaching the motor itself.
That being OK, the start capacitor is suspect. There's a page on this site linked from the troubleshooting page as to how to do that. See that page for how, if you are not sure.
DeWalt Air Compressor Doesn't Want to Start
Question
DeWalt air compressor doesn't want to turn on, this is from Justin of El Paso.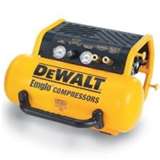 Response
Whoa. Tough one to answer Justin, since you don't provide me with a whole lot of info, so it's hard to figure out why your DeWalt compressor won't start. Knowing the make and model would sure help.
Please visit the air compressor troubleshooting page here to find out why air compressors won't start. There is a bunch of info there about things you can check on your DeWalt compressor.
After checking that out, if you are still having problems with your DeWalt air compressor please add a comment below.
DeWalt Oil-Less D55140 Won't Start
Question
The power supply is good, the tank is empty, no humming, no thermal reset button visible, nothing happens. Just stopped working one day, this was added by Gabriel of Richmond.
Response
Gabriel, you say power is good. Can you provide a bit more info on that? For example, did you use a multi-meter to check where power is flowing to?
With the compressor tank empty, power should flow from the socket, to and through and ON/OFF switch, to and through the pressure switch, to the motor circuit. At the motor power should be flowing from the supply side of the motor circuit right to the motor. Is it?
If power is getting that far, test your capacitor to see if it's shorted out. See that page on this site.
More information on DeWalt Compressors
For a broad range of information about DeWalt air compressors see the DeWalt air compressor brand page here.
---
If you have any questions regarding a DeWalt air compressor not starting, please leave a comment below, with a photo if applicable, so that someone can help you!