Hey! This site is reader-supported and we earn commissions if you purchase products from retailers after clicking on a link from our site.
Air compressor oil sight glasses are crucial components to allow you to check the oil level inside of an air compressor. This article will provide you with all the relevant information about them, as well as provide you with products readily available on Amazon.
Table of Contents
What is an Air Compressor Oil Sight Glass?
Most air compressors will have an oil sight glass similar to the one in the image below that make it very easy to check the oil level inside the compressor.
The oil sight glass for air compressor tends to be made of stainless steel or aluminium alloy that screws into the base of the pump or on the compressor sump tank, with a glass window to allow you to see inside it.
How to Use an Oil Sight Glass
The compressor oil level sight glass window will contain a circular mark at the middle of (usually red) which will help you depict the level as it has upper (upper edge of circular mark) and lower limits (lower edge of circular mark).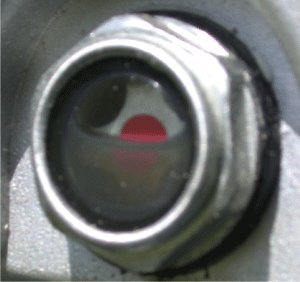 You should always aim for the oil to sit roughly half way up the red dot or fall half way between its upper and lower markings.
It's possible that the sight glass doesn't have the circular mark in the centre. If this is the case, you should ensure that the oil level is between 1/3 and 2/3 of the vertical height of the sight glass.
My Compressor Doesn't Have an Oil Sight Glass?
It's possible that your air compressor doesn't have a sight glass, not all oiled air compressors do. In this case you would look to use the dipstick to check the oil level.
However, it's also possible that your air compressor doesn't have an oil sight glass or a dipstick – but this doesn't mean it is an oilless compressor!
You would just have to check the oil in a different manner, by draining it into a reservoir and gauging the level that way!
Oil Sight Glasses Readily Available on Amazon
I have found the 5 following oil sight glasses that are readily available on Amazon and all boast great reviews.
Image
Title
Price
Prime
Buy

Top

T Tulead Oil Level Sight Glass G3/4 Male Threaded Fittings Air Compressor Fitting 1" Dia,1.5mm Pitch Pack of 2

Prime

Eligible

Buy Now

Top

Fanovo 1pcs 3/4'' Male Sight Glass Checks Coolant Level or Air Compressor Heavy Duty Solid Brass Sight Glass Super Transparent Glass Sight Window Glass Oil Sight Gauge Easily Threading

Prime

Eligible

Buy Now

Top

uxcell Oil Liquid Level Gauge Sight Glass 1/2PT Male Threaded Aluminum Alloy Air Compressor Fittings with O-ring

Prime

Eligible

Buy Now

Top

Sydien 2Pcs G3/4 (Dia 26.2mm) DN20 Thread Air Compressor Fittings Brass Oil Level Gauge Sight Glass for Belt Driven Air Compressor

Prime

Eligible

Buy Now

Top

Boltigen Pack of 1 Dome Oil Sight Glasses,1/2'' NPT Brass Surper Transparent Dome Oil Sight Plug Sanitary Sight Window for Tanks, Air Compressors, Pumps, Piping System, Automotive Industries

Prime

Eligible

Buy Now
Product prices and availability are accurate as of the date/time indicated and are subject to change. Any price and availability information displayed on [relevant Amazon Site(s), as applicable] at the time of purchase will apply to the purchase of this product.
Prices pulled from the Amazon Product Advertising API on:
FAQs (Frequently Asked Questions)
How much oil do I put in an air compressor without sight glass?
If your air compressor does not have a sight glass then you should judge the amount of oil being put into the air compressor by using the dipstick. This will have markings on it which will allow you to control the level to the desired amount.
Where is the oil sight glass on an air compressor?
Oil sight glasses can be located on the base of the compressor pump or on the compressor sump tank. Depending on the make and manufacturer of the compressor, this will vary!
Additional oil reading:
---
If you have any questions regarding the air compressor oil sight glass then please leave a comment below with a photo if applicable so that someone can help you!