by Jim S
(Central Tx USA)
AM78HC4V has air leaking out of dipstick
Emglo AirMate AM78HC4V has air leaking out of dipstick bypass holes.
Compressor will not build more than 30 psi.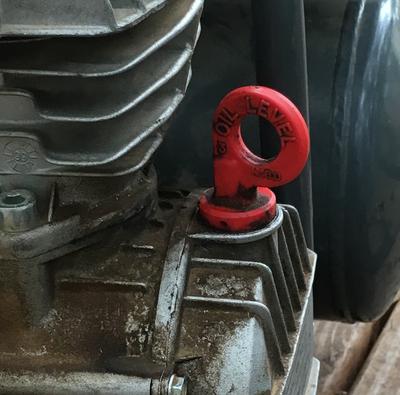 ___________________________________
AM78HC4V has air leaking out of dipstick
by: Bill
Well, the symptoms indicate that your Airmate has some pretty maintenance-necessary issues.
The combination of air blowing out of the oil fill tube bypass and the fact that the compressor isn't building pressure past the 30 PSI point combine to make me think that this compressor has some badly worn piston seals.
Sure, overfilling the oil could allow a little oil out the fill tube vent holes as the sump ventilates as it is supposed to, but if you are feeling or seeing the evidence of a lot of air, then it's time to tear-down the pump and check the cylinder walls, pistons, and replace the piston seals, intake and pressure valves and any gaskets.
---
New comment? New question? Please add it here along with photos to help others help you with your compressor and equipment problem!