Pro-Source 2HP Air Compressor will not build pressure beyond 25psi
by Neil Berman
(Lexington,MA, USA)
I have a 2HP Pro-Source compressor with a 13 gallon tank, distributed by Big Lots Stores. I've had it for about 4 years, looks pristine, only use it for inflating tires and blowing out my sprinkler system every fall.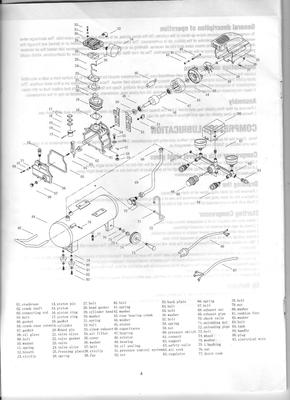 This past fall the pressure will not rise past 25psi and the motor would keep running.
After shutting the motor I listened for any air leak sounds — no hissing and pressure gauge showed pressure maintained for over 2 hours, so probably not a leak. Admittedly, I let the oil level get too low, then added 10W30 automotive oil to bring it up to level. Would that alone cause the problem?
After reading many of the posts on your website, I decided to check the reed valves.
I removed the head and found the valve plate. I was not aware of any gasket material (but leak-down after shut-off was so slow that I don't think that would explain pressure not building.) The reed valves were not what I expected to see. I expected flexible strips that could "flap" over the ports. Instead I found very rigid "fingers" that could no-way ever close over the ports. ??? Were those fingers just limiters and did the flaps maybe vaporize from the extreme heat of running it with low/improper oil and that's why I saw no flexible flaps?
I get the impression that the flaps are of a gauge similar to Coke can material.
My other question is — How do I know if it's the reed valves failing or lack of sufficient piston compression for my failure to build pressure?
___________________________
Could be valve failure?
by: Doug in s.d.ca
From your description, it sounds like the valve(s).
Could also (additionally) be the rings.
Did you happen to take pix of it while it was torn down?
Are you saying the diagram is for an HFT machine?
_______________________________________
Pro-Source 2HP
by: Doug in s.d.ca
Even if you have severe scoring or other indication, I wouldn't worry too much about the rings, yet.
Its sounds more like your reeds disintegrated.
If you haven't already, take the heavy thing off and you should find some pieces under it and perhaps in the cylinder.
You may have to more or less guess at the original shape, but most are more or less feeler gauge (or finger) shaped.
Good luck.
__________________________________________
Pro-Source 2HP oil
by: Doug in s.d.ca
Forgot –
Get that auto oil out of there before you run it much more.
____________________________
Piston Rings
by: Neil
I've taken it down and checked the reeds… everything is intact.. not getting much on the pressure stroke when I put my palm over the piston. I just need to know where I can get the rings.. thanks.
And, I forgot.. it's blowing a lot of oil by.
___________________________________
Piston Rings
by: Doug in s.d.ca
If you have a manual, try calling the number therein.
If not, try calling 1-866-797-2738 – it's been a few years, but if they are still there, may be able to help.
Let us know, please.
Good luck.
(Number is for IMS equipment and / or Sears Parts direct – Moderator)
---
New comment? New question? Please add it here along with photos to help others help you with your compressor and equipment problem!