Just to be clear, this site has no official status with the Atlas Copco Elektronikon controllers, the name being a registered trademark of Atlas Copco. However, some of the visitors to this site each day are looking for help with the Elektronikons they own or service. I've created this page for them.
To start with, contacting Atlas Copco is the logical first step.
You can get some help from Atlas Copco if you have a smart phone, and your Atlas Copco compressor has a compatible Elektronikon monitoring system you can visit www.atlascopco.com to find their monitoring system.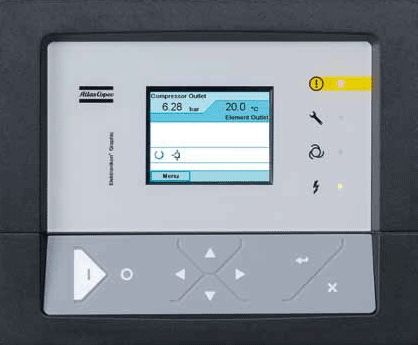 Elektronikon user manuals for complementary download:
That the Elektronikon has some issues that folks have to deal with is pretty clear, by the many questions already asked. If you have any digital Elektronikon documentation you would like to share, you can upload it via the comment section at the end of this page.
If you are one of those that has a problem with their Atlas Copco Air Elektronikon Controllers, please have a read of the postings below. If the answer you are looking for is not already there, post your question using the form at the end of the page. I would expect you'll get some advice promptly.
Those of you that already have Atlas Copco Air Elektronikon Controllers and can offer advice for any of the questions, please do so by adding a comment. We all thank you!
Bill
More questions, answers and info pages about Elektronikon devices found on this site: