Display of elektronikon controller show unreadable format and not working anything why?
Part no .1900071032
Serial no.31101113121
________________________________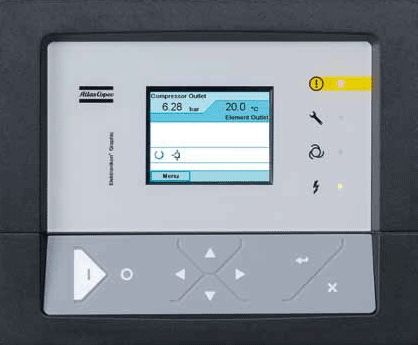 Electronikon Regulator
by: Doug in s.d.ca.
Could be software, voltage to it, plain broke/failed.
Try checking the power to it, if that's OK, then a power-off reset. If that doesn't do it, probably have to call in A-C service.
__________________________________
Unreadable format in elektronikon(r) display
by: Vijay
I did not get you properly please explain me how it will happen I checked input supply that is correct.
And I also clean and reassemble the cards of controller . What else I have to do if I m facing this problem?
Actually we have 3 compressor having same problem with elektronikon (r) controller all of them show on display nothing or unreadable format.
_____________________________________
3 controllers?
by: Doug in s.d.ca.
Vijay –
Did they all go down around the same time?
If so, you could be looking a power problem – as in voltage spikes in either the primary power, or possibly extreme RFI from somewhere.
You'd need a oscilloscope to check that, probably.
Similarly, if these are on communications circuits, that could have garbage on it, causing them to overload and fault.
By the way, how old are these units?
_______________________________________
Old vs new elektronikon regulator issue
by: Vijay bisht
Thanks for sharing your knowledge.
I need help on elektronikon display i installed new this week a new elektronikon but it's show sensor error after checking all parameters and configuration as well.but it wouldn't help me out.so plz share your review on this subject …old one is working well but if installed on new it's shows sensor error and dp air filter as well but on same hardware old elektronikon working well….
________________________________________
Elektronikons
by: Doug in s.d.ca.
Sounds like you've been making progress.
Re the controller "old" and "new" just mentioned –
Are they the same model and rev. number? Or different?
Either way it sounds like you just have couple of differently placed inputs, or they are not making contact. If the "new" is otherwise working, you should troubleshoot the two problems as what they are: new.
Good luck.
---
New comment? New question? Please add it here along with photos to help others help you with your compressor and equipment problem!