This page will provide you with as much relevant information as possible about John Deere air compressors, where you can seek help, download manuals, and navigate existing problems and solutions available on this site.
Table of Contents
John Deere Information
Their powered equipment advertising tag line is, or was, "nothing runs like a deere". Does this hold true for John Deere air compressors as well?
John Deere customers are at the center of everything they do. They rely on more than 180-years of experience and terabytes of precision data to know them and their businesses better than anyone else.
John Deere has easy-to-use technology that helps deliver results seen in the field, on the job site, and on the balance sheet. They aim to ensure seamless access to parts, services, and performance upgrades from take home to trade-in by providing world-class support throughout the lifecycle of their equipment, with productivity and sustainability always in mind. While never forget that we're here to help life leap forward.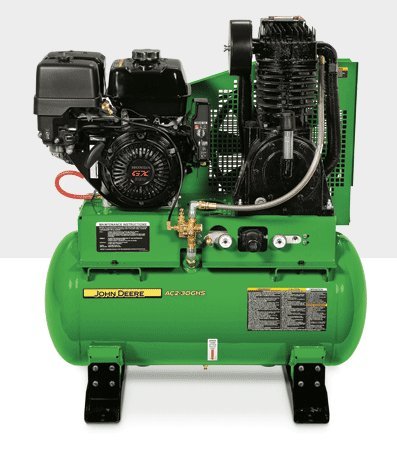 John Deere strives to create new ways of thinking and develop the methods of how they do things. Not to disrupt the status quo, but to evolve customer-focused solutions that move their jobs forward in ways that are easier and more profitable.
In 2017 John Deere gasoline motor-powered air compressors were available in seven versions, five of them portable, with air delivery up to 29 CFM, and all featuring Honda gasoline motors.
If you are in the market for a compressor with an electric motor as a power supply, John Deere offers four models, all portable versions, with air delivery up to 16.9 CFM.
Premium wheelbarrow versions have Mi-T-M OHV motors, and the larger of the two offer 175 PSI cut out with 17.2 CFM capacity. John Deere also offers a stationary 9.1 HP diesel motor air compressor, featuring a Kohler engine, delivering 29 CFM @ 175 PSI. They offer a number of various other gasoline and diesel-powered air compressors which can be viewed here in their air compressor section of the website!
The complete line of John Deere compressors is supposedly available through select distributors, as well as being available through Lowes or Home Depot.
John Deere Contact Information
The best way to contact John Deere is to visit the contact us section of their website and navigate their options. John Deere reaches out across the world with factories, offices, and other facilities in more than 30 countries.
If you'd prefer, you can contact John Deere via the following information or fill out their contact form here:
Deere & Company World Headquarters
One John Deere Place
Moline, IL 61265
T: 1-800-533-6446
John Deere Compressors
1000 Cass Drive
Clayton, OH 45315
Phone: (937) 540-1141
Fax:(937) 540-1157
John Deere Air Compressor Manuals
If you're struggling to locate your John Deere air compressor manual, the best place to find it is by visiting the air compressor page of their website and scrolling to the bottom of the page where you will find an "Air Compressor Operating Manuals" section listing out all their air compressor models and manuals available for download!
John Deere Air Compressor YouTube Demonstrations
I have picked out a couple of useful YouTube demonstrations videos on John Deere air compressors to give you a better understanding of these compressors from a like-minded compressed air user like yourself!
John Deere Air Compressor Troubleshooting, Problems & Fixes
Have you had any issues with your John Deere air compressor? Or are you looking for some John Deere air compressor replacement parts?
After you have read and reviewed the general air compressor troubleshooting page (which offers solutions to various common air compressor problems) and you cannot find your answer, then please post a question below.
To help others that might be having the same type of problem with their John Deere air compressors as you are having, please add your comments to any existing post using the comments link. If you have a digital format of a John Deere air compressor manual or parts to share, please contact me via the contact page!
We all thank you for sharing your John Deere air compressor knowledge.
---
If you have any questions about John Deere compressors, please leave a comment below, with photos if applicable, so that someone can help you!