by Danielle
(Ontario Canada)
Knob popped out with the spring right off the regulator with a bang noise?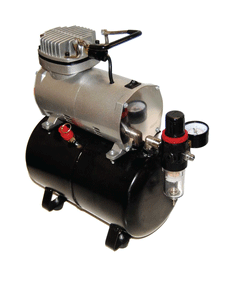 Knob pop out with the spring as i turned it too far in wrong direction!
I was able to re install it, but I am wondering if I did damage the regulator knob when it popped!
I am totally new to compressor and i am not sure of how to properly starting. The manufacturer don t have much on the device . It is a Airbrush Depot TC-20 Airbrush thank compressor with water trap and auto shut off switch!
_______________________________
Regulator
by: Bill
These are not expensive regulators, Danielle, and it is possible that you've broken the retaining mechanism to hold the knob on.
As far as understanding air compressors, read the pages on this site for complete information.
Regarding the regulator, if yours doesn't work anymore, a replacement is easily available on line. Have a look at the Regulators page on this site for more info to help you replace yours.
_________________________________
Setting up the airbrush and compressor with auto shut off switch info
by: Danielle
Thank you Bill for your quick response.
I was able to reinstall the knob but I am a little scared to start the compressor … if the knob is damaged what are the danger to start the compressor?
From all the pages I have been reading from your site , If my understanding is right ..there will not be any pressure building up right? The air is basically will be escaping the regulator?
I was searching for a video that would show me how to get the compressor hooked and going with the airbrush ..it is supposed to be having a auto shut off line feeding the airbrush as I would be using it ..but the manufacturers have so little info on that device ..may be you have a link leading to more information or video ?
Thanks you very much. Your website is extremely informative. I have been searching all over the net for easy to understand information and newbie friendly but I did not find as much as what you have here!
_______________________________________
Setting up the airbrush
by: Bill
You are very welcome. This site is here to help folks just like you.
The pages on plumbing the compressor, air lines, tubing and air hose, fittings and couplers and regulators on this site pretty much explain how to plumb the air from the compressor to the air tool / air brush, Danielle.
There should not be any compressed air coming out of the regulator knob, so turning your air compressor on and letting it build pressure should not be an issue.
There is a typically a small air outlet on the body of the regulator that is to allow downstream air to exhaust if you turn the regulated pressure down.
If you would like me to provide step-by-step help for you, that I couldn't do free. If this is what you need, use the contact page to reach me, and refer to this post so that I know what it is you wish me to help with.
_______________________________________
I fixed the regulator
by: Danielle
Thanks I fixed the regulator.. took it apart, cleaned it .. lubed it and put it back on there .. Yeaahhh it worked perfectly and I even got it to work with the auto shot off.. pretty cool.. thank you Bill.. that video with the regulator help me understand what it was for ..I will will be ok for the moment!
Next step is to learn how to drain the water and get the pressure off the compressor! Thanks again !
_________________________________________
Fixed the regulator
by: Bill
Good news, Danielle.
Glad my site is of help, though I have to shout out too to all the other compressor knowledgeable persons who give of their time and expertise on this site.
---
New comment? New question? Please add it here along with photos to help others help you with your compressor and equipment problem!