Hey! This site is reader-supported and we earn commissions if you purchase products from retailers after clicking on a link from our site.
Pressure switch – where is it?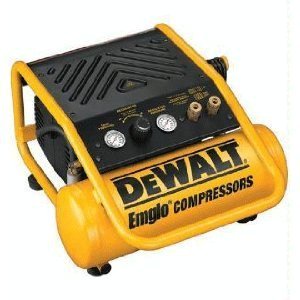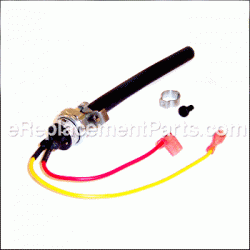 I have a dewalt D55141 type 1. Where would the pressure cut-off switch be???
---
I have added photos of the compressor and the pressure switch.
You are going to have to remove the shroud covering the guts to find it. Given the size of this air compressor, the pressure switch is inserted into the tank, as opposed to being mounted external to the pump and plumbing.
---
Airmate by Emglo – compressor wont start at all
by dawg
(Stockton)
I have an Airmate by Emglo 1 1/2 hp, 200 psi portable air compressor that was my dads, has been in storage for 2 or 3 years worked fine before, now when I turn it on, the motor hums for maybe 30 sec or so, then the motor reset thermal switch pops….?
---
It worked fine when it went into storage, but hasn't started properly since you took it out?
I think this compressor is oil lubed. If so, is there oil in it?
If the oil was in it when it was stored, and that oil has dried out on moving parts, that might be it.
If all parts move OK, then I'd next look to the capacitor to see if it's working OK.
---
Emglo air mate electric compressor will run but won't build pressure above 20 psi
by rick
(Salisbury, ma. USA)
I have an Emglo air mate electric that I haven't used in about5 years, it will run and build up to about 20 psi and won't build tank pressure any higher. It's missing the air intake filter which I need to replace.
---
Rick, the first thing I think of when I hear about an air compressor, not building pressure, is the valves.
Since you lack an intake filter, it's pretty easy then to feel up around the intake (carefully) to see if the compressor is pulling air in when it is running.
If so, then shut it off, dump all the air, pull the line from the pump head to the tank, and then start the compressor.
Is air coming out of the high-pressure port (where the line was connected)? If so, can you stop this air by pushing a gloved finger over the port?
Post your response as a comment here, please and we'll press on figuring out your compressor problem. Also, look at the Troubleshooting category on the site map page for links to more pages with info.
---
How to turn up tank pressure on Emglo compressor?
by Kyle
How can I turn up the tank pressure on my 4-gallon twin tank Emglo compressor? I have the regulator set on 110 and the motor doesn't kick on until the tank pressure reaches 100 psi. Any suggestions?
---
Kyle, unless there is something failing on your Emglo air compressor to affect the settings of the pressure switch, the cut-in pressure level, and the cut-out pressure level are factory set.
To me, that means that the settings are optimal, set by the factory, and the air compressor will run best at those settings.
If you would like to increase the cut-out pressure, recognize that in so doing you will overload and ultimately destroy the compressor.
If you increase the cut-in pressure, the lower level where the compressor restarts, then you are possibly not going to allow the compressor time to cool between cycles, and that, too, will ultimately damage the compressor.
Having said all that, the device that controls both settings is your pressure switch, and that info is covered on the PRESSURE SWITCH page.
---
New comment? New question? Please add it here along with photos to help others help you with your compressor and equipment problem!