by Jeffery a Leighton
(North Conway NH )
We have a new Titan tac-2t wheel barrel compressor. The pulley on engine does not stay on the set screw will not hold key way and pulley flies off.
The set screw loosens, the keyway falls out and the pulley falls off.
it has done this since day one when we unwrapped it
Now need new pulley set screw and keyway very unhappy with this what the problem with these compressors?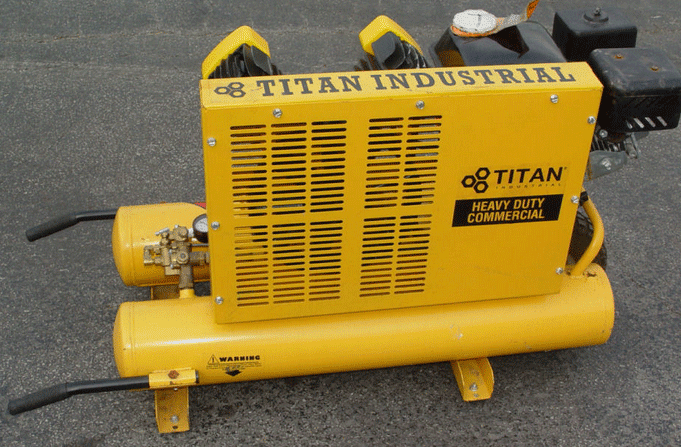 _____________________________
Pulley flied off
by: Doug in s.d.ca
Too late to send/take it back?
Is the motor shaft OK?
What, exactly, do you mean by "keyway"? Is there a key plus a set screw?
Sounds like you may have an alignment problem – even if the pulley gets loose, it should stay in place by tension on the belt.
Pix would be nice, too. (Photo added of Titan wheelbarrow air compressor – moderator)
_________________________
Pulley flies off
by: Tom
My compressor pulley flies off. Not the engine pulley. It could ultimately be an alignment issue. I will look a that now that I know what to do.
However, the engine shaft has a bolt and washer that goes into the end of the shaft that seems would keep the pulley from coming off. There is a threaded hole in the compressor shaft for a bolt also. I need that bolt and can't find a parts diagram to order from. I need that bolt and washer. I'll get a new belt and then go thru the alignment process.
Do I contact the factory for those parts or is there somewhere else?
__________________________
Set screw
by: Doug in s.d.ca
If you haven't already, yes contact Titan –
info is here:
https://www.about-air-compressors.com/titan-industrial-air-compressors
They may have the dimensions of what you need, which likely is available at a local hardware store – if not the exact thing, then something close enough.
Good luck, and please let us know how get on with this.
___________________________
Keyway
by: Jeffery
By key way I mean there is a slot in the compressor shaft, and the wheel the belt runs in, that requires a piece of @ 1/4″ bar stock to join the shaft to the wheel.
The wheel does have a set screw that must come loose because I did tighten it. I will do the alignment and tensioning procedure.
I agree that is the ultimate reason the wheel "chases" off the shaft. If aligned properly it should stay on there.
The other question I had is if there is supposed to be a bolt and washer on the end of the shaft? That would keep the wheel on.
Then, if not properly aligned, there would be belt wear, possible belt failure or the belt might "chase" off the wheel.
Is there supposed to be a bolt on the end of that shaft or am I missing something?
_____________________________
Set screw / key / bolt & washer
by: Doug in s.d.ca
There's a lot of vibration, I imagine..
I do not know what is supposed to be on there, but I'd definitely add the bolt and washer as a safety item, if nothing else.
And on the set screw – if it is coming loose, maybe a dab of locktite or similar.
You don't say if you got a manual, but there's some potentially useful info here:
https://titanindustrial.net/wp-content/uploads/2017/05/Air_Compressor.pdf
Please note page 25.
___________________________________
New comment? New question? Please add it here along with photos to help others help you with your compressor and equipment problem!