Gilbarco air compressors are no more. At one time the company was known as GILBERT AND BARKER.
Charles Gilbert and John Barker's partnership was incorporated as the Gilbert & Barker Manufacturing Co. of Springfield, Massachusetts in 1870, and were heavily involved with gasoline, gasoline and fuel pumping, and fuel dispensing from the get go.
Gilbarco brand air compressors were likely not manufactured by Gilbarco. Gilbarco is now known as: Gilbarco / Veeder-Root. Their website is: www.gilbarco.com.
If you have pumped gas at a self-serve station, then you've likely already seen the product that Gilbarco is renowned for, other than air compressors, that is. It's the gas pump itself.
Gilbarco / Veeder-Root's current mission, among other things, is to provide "a state-of-the-art fueling experience …".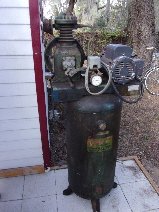 If you are the proud owner of a Gilbarco air compressor you are out of luck when it comes to buying OEM parts and getting OEM service. I would expect that many non-OEM parts would fit the Gilbarco air compressor, depending on which part it is that failed.
To help Gilbarco compressor owners and users exchange all things relating to Gilbarco Air Compressors to help folks deal with maintenance and parts issues they are experiencing.
If your question about Gilbarco air compressors is not already answered, please post it using the form. The form to add a question is found at the bottom of this page. Please also read the comments below as you scroll down, your answer may be here.
Since Gilbarco air compressors are venerable old beasts, if you have one and resolved issues with it, maybe you can help other Gilbarco users by adding a comment with your experience? If your advice includes pictures, so much the better.
I thank you as does the Gilbarco air compressor users trying to find help on this page.
Bill
---
Existing Gilbarco Air Compressor Issues: