by Tom Connell
(United States)
I just bought a Sanborn 3 hp Magna Force compressor. It looks to be rather new.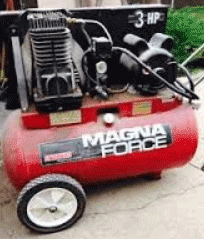 When I turn it on it starts pumping but quickly slows way down and quits running before it gets to 30 lbs of pressure.
I took the belt off the motor and turned it on and the motor runs fine. When I put the belt back on the same thing happens again.
Any ideas on what's going on with this compressor?
Tom
___________________________
3hp sanborn magna force slows way down
by: Bill
Tom, what is the voltage of the motor, and please describe how you are getting power to it. In other words, are you using an extension cord or power bar?

____________________________
Mine does same thing
by: Gary
My model #112A300-30N. does same thing. You first tun it on it runs fine but after a few seconds it pulls down and then shuts off (before tank is anywhere close to full) I think it may be pressure switch, but I'm no expert.
____________________________
Not pressure switch
by: Bill
I doubt if it is the pressure switch.
Typically this issue is created by a couple of things. Either the motor cannot overcome the increasing load of a mechanical issue in the pump, or, the motor isn't getting enough power from the source or through the run capacitor.
That's why I asked the original poster if they were using an extension cord. Often a too small cord is the reason the motor lugs down when pressure builds.
______________________________
Check The Voltage Wiring inside the J box on the motor
by: Anonymous
Sounds like the motor could be wired to run on 220V but the has a 120V plug. that would make the motor run as you describe.
check the schematic inside the cover of the Junction box on the motor to make sure it is wired correctly for your electric supply.
---
New comment? New question? Please add it here along with photos to help others help you with your compressor and equipment problem!