by James
(Tulsa, OK)
I have been trying to help someone with a Snap On BRA7180V compressor that has pressure switch and starting problems – It purchased used.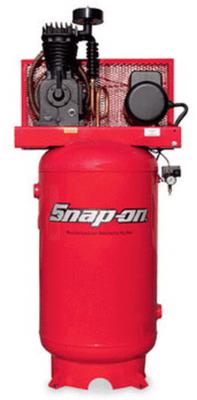 The motor starter has a 24 volt coil but I can not find a transformer to step the 240 v down to 24.
Either I'm missing something or the wiring is incorrect.
I would like to get a schematic of the controls so I can determine if components are missing and if it needs rewiring. Thanks
James
__________________________
BRA7180V transformer
by: Doug in s.d.ca
I dunno what else is going on with this thing, but the transformer, if used, would be a 120V in 24V out, as in bell transformer.
You have 120 if you run a neutral into it.
(You CAN use ground instead of neutral, but you MAY not – it's against code.)
Maybe you can post some pix with electrics detail?
---
New comment? New question? Please add it here along with photos to help others help you with your compressor and equipment problem!