Hey! This site is reader-supported and we earn commissions if you purchase products from retailers after clicking on a link from our site.
I plug compressor in and hit start and it hums very little and stops and i have to reset it
by Tony
(N.W.I.)
Plug compressor in and hit start and it hums very little and stops and i have to reset it
king craft 6 gallon 3.5 horse.
__________________
Did it ever work on the circuit you have it on now?
Sound like too many appliances drawing power from the circuit before it gets to the compressor, or the start capacitor is failing or has failed, or the motor itself might be flawed.
Before you check any of these further, unplug the unit, open the drain valve to drain the tank to zero, and plug it back in. What happens then?
---
Compressor hums when it should build up pressure.
by carlton norton
(ashford alabama)
when some air is used the air compressor hums instead of pumping more pressure
______________
Carlton; your compressor hums? Do you recognize the tune?
I think I do.
It's the "my motor can't start as there isn't enough amperage in the circuit, or the motor start capacitor isn't working" song.
Those are the things I would check, as I suspect the humming is coming from your compressor motor that can't start when the pressure switch trips cut in at the low pressure level.
---
Compressor won't start – makes humming sound
by Tony Brown
(France)
Hi, I wonder if you can help please. I have a Rondy RDY100CA50 compressor. I was using it okay and then it stopped as normal when the tank was full of air.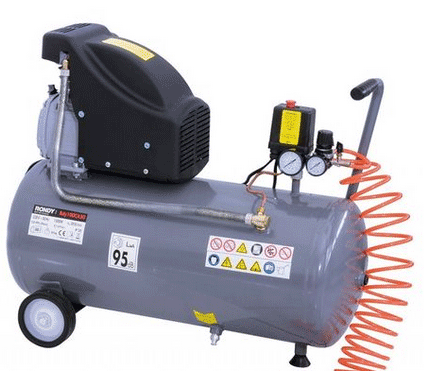 The trouble is it didn't re-start and just made a humming sound.
I drained what air was left in the tank and opened the condensation valve- only a very small amount of water came out. I checked the oil and that was okay. I then checked all the electrical connections and they were okay. I was using a power extension lead so I unplugged it and plugged straight into the wall socket but still no joy.
Have you any ideas please and do you know how I can check to see if the capacitor is okay.
Thanks a lot
_________________
Hi Tony.
By dumping the air, and having the problem still persist likely rules out what my first guess was, the unloader valve. By draining the tank you effectively unloaded the air compressor, and if it still won't start, then your unloader valve is probably OK.
Plugging the compressor directly into the wall socket was a good move. Are you sure that there is nothing else new drawing power from the same circuit?
I tend to think it's your capacitor, too. I will be posting a page soon on how to check the capacitor. Not being an electrician myself, I'm relying on someone to provide me the info, and that hasn't come yet.
If anyone else knows how Tony can check his capacitor, please post.
---
New comment? New question? Please add it here along with photos to help others help you with your compressor and equipment problem!