So, who makes Performax air compressors? Is it Menard's that has this brand made for them?
When I Google Performax air compressors the first page that pops up is Menard's so I initially understood them to be the original source. Further, their name appears on the last page of the manual for the couple of models they offer. So, I guess this is their brand.
If you have other info, please advise. Otherwise, I'll carry on with the assumption that Menard's, like many big home improvement type outlets, has the Performax brand made for them, probably in an offshore factory.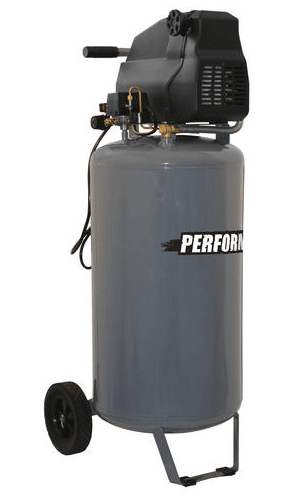 I've only been able to find two models of the Performax compressor. There is an 8 gallon horizontal portable electric, model 300811, and a 26 gallon vertically oriented version, 332614 model. If you know of more, please advise.
Performax air compressors manuals
While I stand to be corrected, I perceive that these compressors are no better, nor worse, than the readily available, fairly cheap assortment of small air compressors available from a host of outlets around the country. And like their contemporaries, I suspect that after sales parts and service will be in short supply.
You can try contacting them at: www.menards.com if you'd like to check with them regarding support for their brand of compressor.
If you agree or disagree with my summation, or have a question, please feel free to post. And if you can help another Performax air compressor user, please comment as well.
Thanks all,
Bill
Existing comments
Whats the scoop on performax 26 gallon air compressor ?
Comment? Please add it here along with photos to help others help you with your compressor and equipment problem!