by Don
(Allen, Texas USA)
I need owners manual for older 3hp Sanborn air compressor Black Max 096-0667 probably made in 1990's.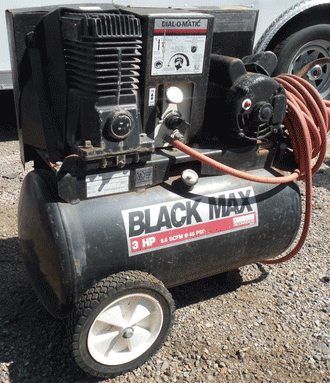 Need to know which of the three lines on dipstick is used for correct oil level. Also, is dipstick screwed in for level, or just stick in and then check level. Thanks
__________________
Don,
Regarding the dipstick, my understanding is that the top line of the part that enters the oil is the correct fill level, and I check that level after I have inserted and threaded the cap into the fill tube completely.
That's what I would do if this were my air compressor.
Your request for a manual is live.
Your local distributor is listed on the Powermate site as:
PARKER POWER SYSTEMS INC.
1540 VALWOOD PARKWAY
Carrollton, TX 75006
(972) 484-9044
Probably worthwhile asking these folks for a manual. If you get one, could you let us know?
---
New comment? New question? Please add it here along with photos to help others help you with your compressor and equipment problem!