Even though there are thousands of Ingersoll Rand P175 tow behind air compressors in use and for sale around the world, so far at least, I have not been able to get any information on this venerable compressor from IR, except that it's a portable, and that it's supposed to provide 175 CFM of air flow.
The oldest P175 I've seen on line was built mid-70s, making the model number at least 40 years old!
Have you an IR P175 construction compressor? Feel free to use the forum form below to send in a few photos and give us some history on your P175 air compressor, if you would like to brag about it a bit. Or complain, for that matter!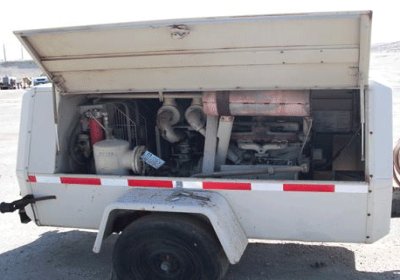 Lots of them are in use. Not a lot of information about fixing or maintaining them… at least as far as I'm able to find. So, this page is all about letting owners and users of the P175 compressor to post questions about their compressor.
If you have experience with the P175 and see a question you can help with, please comment. That helps the one person, and anyone else that finds the page that is experiencing the same issue with an IR P175 portable compressor.
All IR P175 compressor users, and me, say thanks a bunch.
Bill
---
Existing questions about an Ingersoll Rand P175 Tow Behind Air Compressor:
I have an Ingersoll Rand 175 air compressor with a Deutz 3 cyl diesel F3L912 that i can't get it to start.
---
New comment? New question? Please add it here along with photos to help others help you with your compressor and equipment problem!