I have a scored crank on my 919.165600 – how to dismount it from the motor?
by Rick
(Dansville, NY)
I have a Craftsman 919,165600 6.5hp upright oil-less compressor with a problem. After about 2 years and 60hrs. of operation it failed.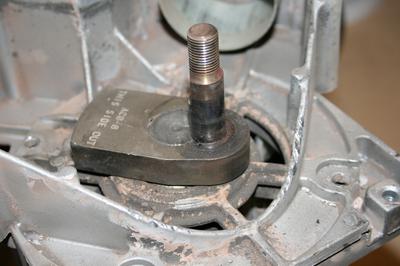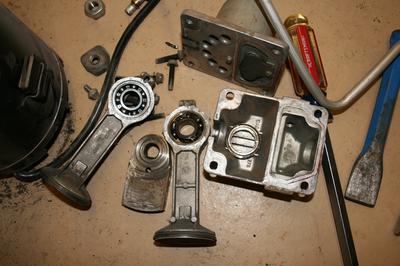 Pulling it apart revealed the end bolt on the crank backed off resulting in destroyed big end bearings and spacers, which then resulted in a scored crank. I would like to refurbish or replace the crank but how in heck does it come off the motor shaft?
Any help appreciated.
Rick
_________________________________________
Scored crank – how to dismount from motor – the answer
by Rick
(Dansville, NY)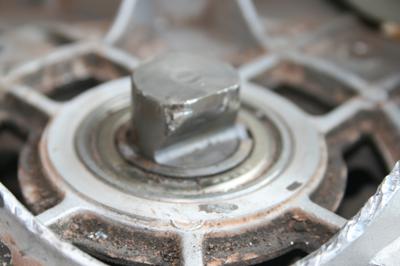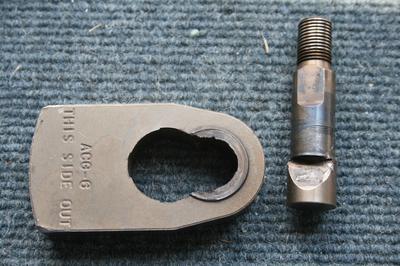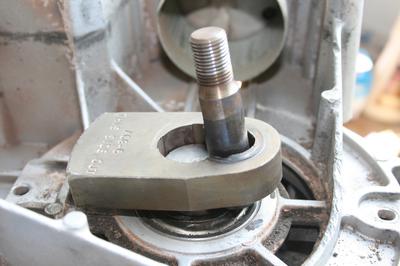 See the original post at the start of this thread.
The motor shaft is not tapered. The eccentric, flyweights and the whole mess are held on by the crank pin being wedged into a notch in the motor shaft.
Hopefully these pictures will help the next person.
_______________________________
The answer
by: Rick
Well, it wasn't what we thought but acted like it was a press fit worked.
The motor shaft is not tapered but keyed and the crank actually fits into this.
The eccentric locks the parts together, which the piston/bearing stack locks in place via the end shaft bolt. Easier to see in pictures.
---
New comment? New question? Please add it here along with photos to help others help you with your compressor and equipment problem!