by AliX
(Va, USA)
Info label faded on my Ingersoll Rand 4000 RA250E12. Can anyone help?
I have had this air compressor sitting (covered) with the drain hole wide open for years.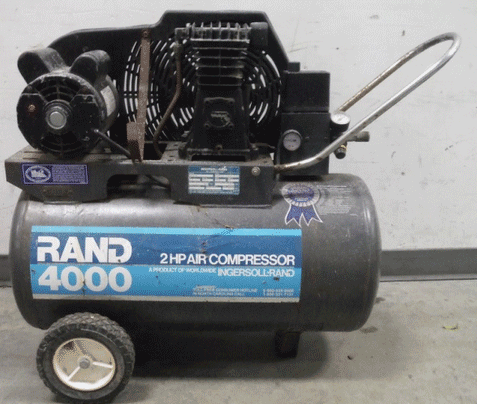 It has a 2.5hp, 15amp single stage motor and a 12 gallon 100psi tank.
I took it upon myself to inspect it for corrosion and leaks this past weekend and to my surprise, it's still in almost brand new shape with no internal rust or obvious leaks. I cleaned everything (including the labels which I shouldn't have!)!
The data/specs inside the boxes of the label (laser-printed) is now erased completely other than the general outside the box letters.
I am glad I recorded the model number before I did the housecleaning! The air filter part # is listed as CAP718-04 which seems impossible to find for a 33 year-old unit so I used some fresh foam instead. It fills the tank quickly and is quieter than today's units.
ALL I NEED NOW IS TO FIND A NEW LABEL WHICH IS VERY UNLIKELY OR THE SCFM VALUES AT 90 AND 40 PSI WHICH WERE ORIGINALLY PRINTED ON THE LABEL AND THE "APPROVED PUMP SPEED". THESE NUMBERS ARE IMPORTANT TO ME!
IR website has no info on this model unfortunately. In case someone has the same model with a 12 gallon tank or knows of an online source, I would appreciate those values so I know which tools I could use with this extremely well-built unit. It amazes me that not even a single plastic part has deteriorated AFTER OVER 3 DECADES. I guess it was all truly made in the good old USA after all!
Thank you for your help and support!
___________________________
Recalled?
by: Doug in s.d.ca.
You may still be able to send it back and get credit for a new machine, if you're so inclined…
Did you try contacting IR? They sometimes have info not on the web.
____________________________
It was not recalled …
by: AliX
This was not made prior to 1992. The metal tag welded onto the tank says: 150095! I assume 95 indicates year of manufacturing and 15 the day of the month. I have no idea what 00 stands for!
Thanks Doug for bringing this to my attention. If that's the year it was manufactured, then it's 23 years old NOT 33. My mistake there.
I have read online from people who have called IR that they say Rand 4000 was actually made by DeVilbiss not IR, so they have no info or parts for those models. I would appreciate further comments though.
I actually found an exact air compressor online with scfm values clearly showing but that one had a 20-gallon tank so those values may be different from mine.
________________________________
SCFM
by: Doug in s.d.ca.
"I actually found an exact air compressor online with scfm values clearly showing but that one had a 20-gallon tank so those values may be different from mine."
If the tank is the *only* difference, then the scfm is the same, too. Unless it's fudged. The pump/motor combo is the defining factor in scfm.
________________________________
I contacted IR this morning RE: Doug's Comment
by: AliX
Having lost the serial number to the housecleaning, I contacted IR this morning.
They told me the serial number was needed to identify the compressor and see if it was part of the recall. They told me the serial number could also be found under the plastic cabinet, so I looked and looked until I finally found it.
After contacting IR again, they confirmed that my unit was also part of the recall and I could return it for a $100 check, freight paid.
After telling the lady how clean my unit was, she suggested that I keep the motor/pump assembly and return the tank only.
This opened a new horizon to me as I could use the refund towards purchasing a new tank from another source and install my own motor on top of it.
I know a good tank costs more than what I'm entitled to, but at least I would be on the safe side for sure! From the serial number, she also told me it was made in 1989!
Now I'm seeking another tank, hopefully a 20 gal instead of the original 12, to build my own air compressor. I know I will need some drilling to do, but that should not be too difficult. I only wish the tray on top of the tank was also detachable, in which case no drilling would be needed.
I would like to thank everyone, Doug in particular, for pointing me in the right direction. I would also advise the other RAND 4000 owner to take a similarly cautious approach before using his newly-bought unit.
Thanks everyone!
_______________________________
Good plan Alix, but –
by: Doug in s.d.ca.
Do NOT drill into another tank, or even weld to it, unless you are a certified welder.
Try to find a good tank that already has some kind of mounting platform – it's OK to drill or weld to that, just not the tank proper.
Good luck, and thanks for the info!
________________________________
"Do NOT drill into another tank, or even weld to it"
by: AliX
I would NOT be crazy enough to do any of that. I meant drilling to the top plate only! If anyone knows of a clean tank, has one to sell or knows a good online source, please let me know.
---
New comment? New question? Please add it here along with photos to help others help you with your compressor and equipment problem!