The Harbor Freight 21 gallon air compressor is sold through the Harbor Freight retail outlets nation wide, under the Central Pneumatic air compressor brand. They are also available on line and through after market outlets.
To make identifying the 21 gallon (tank size) from Harbor Freight a bit more complex they offer a number of different models with this 21 gallon designation. They are: 61454, 67847, 61693, 62803, 69091, 63635.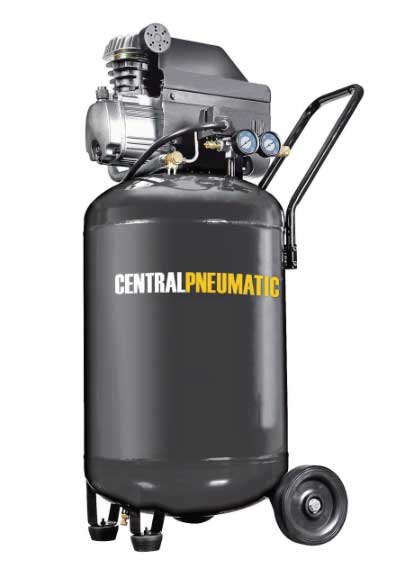 This is a 2.5 HP compressor, meaning that at peak and when new it can supply about 4 CFM of usable compressed air at 90 PSI. Don't be surprised if the actual flow is less, as typically testing to determine output capacity is done in ideal conditions.
Reduce the output pressure
This compressor has a maximum output pressure of 125 PSI. Consider using the regulator that comes with this compressor to reduce the output pressure from that 125 PSI down to the minimum pressure your air tools need to operate properly. Doing so will reduce your operating costs both in terms of energy consumed to do the work, and help your compressor last longer due to it not cycling on as often as if pressure was being used at maximum output all the time.
21 gallon compressor power supply
When the 21 gallon compressor is running it needs 14 amps of power supply according to Harbor Freight.
That seems a bit low, as, according to https://www.engineeringtoolbox.com, a 115 volts motor – single-phase requires 14 amps per HP. Under load or when it's cool, it may be hard to get this compressor to start when powered by a 15 amp circuit, particularly if there are any other electrical appliances in use on the same power supply.
HF 21 gallon lube oil
This compressor needs oil as it is splashed lubed. It will not normally be shipped from the factory with oil in it, so make sure that compressor lube oil is added before it is used. There is an oil fill port on the top of the end of the pump housing along with an oil-fill sight gauge at the bottom of the pump housing. Fill the oil to the center of the dot in the sight glass, and monitor it regularly as oil will be consumed as the compressor is run. Oil often ends up in the tank or in the air lines depending on how much bypasses the piston seals. Some leakage is normal. Excessive oil use may indicate a failed piston seal.
Also ensure that the only oil used to lubricate this compressor pump is compressor lube oil. Automotive oil, though it may have a similar viscosity, contains detergents that are not suitable for the compressor.
Portability of the Harbor Freight 21 gallon compressor
While it weighs in pretty close to 100 lbs, it's fairly easy to move this compressor around on level surfaces as it comes equipped with two wheels for wheeling around, and a handle to make this process easier.
Not so good if moving up and down stairs, however. It's pretty heavy.
Other issues with this 21 gallon compressor
At around $150 in early 2020, the Harbor Freight 21 gallon air compressor with the 2.5 HP electric motor is a reasonable do-it-yourself type of air compressor with ideal use being tools that require bursts of air rather than sustained air supply.
Ensure that the air tools being used have an air demand below the approximately 4 CFM at 90 PSI this compressor promises. If the air tool requires a larger supply than that, either only run the air tool infrequently, or acquire a larger compressor.
Though there are a few components on this compressor that can be sourced after market (regulator, couplings, gauges etc.) parts for repairing the pump may be in short supply.
If there are electric motor issues a user will have to turn to an electric motor repair shop for help, as there are virtually no parts available for the motor, and limited supply for the single capacitor or thermal cut out.
Are you using this compressor? Care to tell folks about your experiences? Please use the comment form below to do so.
Thanks to Dylan Taylor for the following video that provides a bit of insight into the Harbor Freight 21 gallon air compressor maintenance.