It can be quite a daunting task trying to figure out how to change your DeVilbiss compressor oil, how much to use, and what is correct DeVilbiss oil to use right? Well, fear no more, I will answer all these questions in relation to DeVilbiss compressor oil for you.
Table of Contents
What kind of Oil goes in a DeVilbiss Compressor?
It is extremely important to refer to your compressor manual before purchasing DeVilbiss oil for your DeVilbiss compressor. We have numerous DeVilbiss compressor manuals available on our brand page so please visit here first!
The manual will tell you what DeVilbiss oil is compatible with your air compressor, if you cannot locate your manual, please contact DeVilbiss directly or visit their website to download a manual for your compressor.
DeVilbiss Compressor Oils Available on Amazon
I couldn't find any DeVilbiss compressor oils available on Amazon or anywhere else online so I have picked out a couple of alternatives produced by Mobil that may be suitable!
Again, it is very important to ensure the oil is compatible with your air compressor before putting it into the system, so please check first!
The first is the Mobil 101016 Rarus which is suitable for reciprocating air compressors whether they're single or multistage. This oil lubricant boasts excellent water separability, protection against rust and corrosion, long life for extended oil drain, and provides your compressor with very clean air valves.
Prices pulled from the Amazon Product Advertising API on:
Product prices and availability are accurate as of the date/time indicated and are subject to change. Any price and availability information displayed on [relevant Amazon Site(s), as applicable] at the time of purchase will apply to the purchase of this product.
The second is the Mobil 100870, boasting similar benefits as the previous oil but the potential to work with reciprocating, rotary screw, and rotary vane compressors.
Prices pulled from the Amazon Product Advertising API on:
Product prices and availability are accurate as of the date/time indicated and are subject to change. Any price and availability information displayed on [relevant Amazon Site(s), as applicable] at the time of purchase will apply to the purchase of this product.
How Much DeVilbiss Oil to Use in a DeVilbiss Compressor?
It can be a tricky task determining how much DeVilbiss oil a specific model of compressor pump requires without having the actual manual for that model at hand.
If you're struggling to locate your specific manual, you should contact DeVilbiss directly or search the internet for the specifications of your DeVilbiss compressor and its model to find it!
I will now provide you tips on how to check the DeVilbiss oil amount inside your compressor and then present to you a step-by-step guide on how you can go about changing it.
DeVilbiss Oil Sight Glass
You can check the amount of DeVilbiss oil inside the compressor pump using a sight glass. Ideally, you would aim for the oil is approximately halfway up the red dot like in the image below.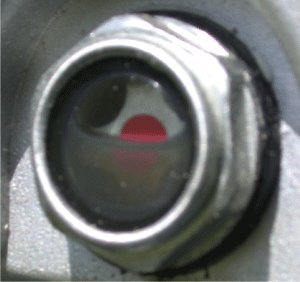 DeVilbiss Oil Dipstick
It's common for pumps may not have a sight glass, so in this case, you can check the level using the dipstick. These will typically be found as part of the DeVilbiss oil fill tube cap and they extend down into the sump and DeVilbiss oil.
Firstly, take the dipstick out of the sump and give it a good wipe. Then you can dip it back into the sump and when you pull it out again, check the markings on it, which will tell you the DeVilbiss oil level.

Alternative Method for Checking DeVilbiss Oil
If you don't have a dip-stick or a sight glass on your DeVilbiss compressor, an alternative method you could use is draining the DeVilbiss oil from the tank into a reservoir and judging the level that way.
How to Drain DeVilbiss Oil From the Sump
Start by locating your DeVilbiss oil drain plug which should be underneath the pump housing. Then, drain the DeVilbiss oil into a reservoir which will allow you to gauge how much DeVilbiss oil was in your pump ready for refilling.
Note: Be especially careful when draining the DeVilbiss oil in case you get any spillages. A useful tip may be laying something out on the floor below the compressor to avoid this and therefore catch any spillages.
How to Change DeVilbiss Compressor Oil
Changing the DeVilbiss oil on each model of DeVilbiss compressors can vary. Before doing anything, ask yourself if your compressor definitely is oil lubricated. If you need, check the model's owner's manual or contact DeVilbiss directly to find this out.
Changing DeVilbiss Compressor Oil Process
After following the steps already presented for draining the DeVilbiss oil from the compressor into a reservoir, you should securely tighten the plug back into the bottom of the sump.
Then add the replacement DeVilbiss oil you have at hand into the top of the DeVilbiss oil sump where there will be a port into which you can. As the process can vary depending on the specific model of your DeVilbiss compressor, it is quite hard to be any more specific.
You should aim to add roughly the same amount of DeVilbiss oil that you've removed. Of course, gauge it using the sight glass or dipstick if you have either. Be cautious though, as you do not want to overfill the sump!
Note: when filling your DeVilbiss air compressor with DeVilbiss oil, ensure you do not fill the air intake on the pump.
Summary
The above methodology is simplified for ease into the following steps:
Check DeVilbiss air compressor oil level
Locate plug beneath the air compressor sump
Drain the DeVilbiss oil into a reservoir
Securely tighten plug back into the sump
Locate the DeVilbiss compressor oil port
Replenish the compressor with the same amount of DeVilbiss oil as removed (do not overfill)
Without having access to every DeVilbiss air compressor model manual, there is no way to be anything but vague when providing you with advice about changing DeVilbiss compressor oil.
DeVilbiss Compressor Oil FAQs (Frequently Asked Questions)
My DeVilbiss 342 says 10wt oil on tag. What oil?
Question:
by gary
(washington state)
Have an old old DeVilibiss 342 that says 10wt oil on the metal tag located on block.
It runs at 600 rpm and located outside winter and summer. Oil is still clean and hasn't been changed in 15 years of light use…….figure its about due.
1—-Should I stay with 10wt non detergent, or is there a modern 30wt or synthetic subsitute that would work better for my application?
2—-anyone know how much oil the crankcase holds?
Response:
Devilbiss 342 says 10wt oil
by: Doug in s.d.ca
Does the tag say 10w – 10 10 ?
Then for your area, I'd say stick with sae 10, either dino or syn.
Don't know capacity, but looks like probably a quart or maybe two.
I'd further say, if the oil feels smooth on your fingers, and there's no water, let be, especially if you can't find sae 10.
Response:
Decided on hydraulic oil
by: gary
Its 2 quart capacity. I think about 1950 year.
Tag says below 32 = sae 10wt
32-100 =10wt
above 100 =20wt………
It sits outside, We get all 4 seasons here…0 to 100 degrees.
Cant find 10wt oil, so bought some hydraulic oil ISO32 = 10wt. Will run and drain it several times and call it good. Read lots of posts on internet where guys have always used hydraulic oil in these old compressors with no problems…..
Called an air compressor shop, and guy told me to just use iso 32 hydraulic oil if I cant find any 10wt non detergent.
I wondered why the outside of compressor over the last 15-20 years seemed to get darker and darker. When I drained oil yesterday, it was really dark. I think my dad must have put motor oil in it 15 years ago??? Oil level was down about 1/2 quart.
Still runs good. Maybe the low 600 rpm helped over the years.
Response:
Devilbiss 342
by: Doug in s.d.ca
I think you're right about the low rpm.
And I expect the iso32 will be fine.
Thanks for the update.
Response:
It's still going strong
by: gary
I think this old devilibiss might make another 65 years.
Its a 2 stage pump, 2 cyl, rated at 175psi at 700 rpm max…..Minimum rpm is 300. Pretty quiet old monster.
It has an old old us electric motor that seems to be older than everyone I've showed a picture of it to. The frame is a 254-4. It is gray, about 26″ long, 12″ wide, and has a cast iron rounded plate that 2 bolts onto back of motor. THe frame looks like its at least 1/4 cast all the way around. If it ever goes bad, I will have to hire 2 strong guys just to lift the motor off..
Greased both grease fittings on each end of motor and still purring away.
I put on a new pressure switch rated at 175psi but turned it down 3 turns and now shuts off at 135psi. Its a 100 gal tank which takes 10 min to fill from empty to 135 PSI, at 600 rpm.
I figured with that volume and what little I do in shop, that should fit all my needs and not have the compressor work any more than necessary. I think before it always cut out at 150 psi.
I was seriously thinking about buying a new 60 gallon vertical compressor for shop, but the quality of most for $600-700 didnt seem to come close to what I already have. IMO
Anyway I think I'll just let the old monster keep going and have a happy death, hopefully decades from now. I wonder which will last longer, the pump or the motor?
______________________________
Does anyone have a photo of the DeVilbiss 342 compressor they could upload here for folks to see what it looks like? Thank you, Moderator.
---
If you have any questions regarding DeVilbiss air compressor oil, please leave a comment below with a photo if applicable so that someone can help you!