This page will provide you with as much relevant information as possible, where you can seek help, download manuals, and navigate existing problems and solutions available on this site.
Table of Contents
Devair Information
Devair Air Compressors & DV Systems Compressors are now, apparently, one and the same. It appears as though the Devair air compressors company has inherited the mantle of Devilbiss air compressors in Canada, and morphed the Devilbiss name into Devair.
They design, engineer, and manufacture reliable industrial air compressors for demanding environments and provide comprehensive compressed air solutions for your application's compressed air needs.
Devair air compressors claims over 100 years in manufacturing industrial air compressors with their roots going back to the early 1900s when they were a part of the DeVilbiss Company of Toledo. DeVilbiss formed an industrial air compressor division and moved it, in 1954, to Barrie, Ontario. This is why they have so many veteran employees with decades of expertise. Devair, Inc. was formed in 1998 as a stand-alone business and we are the two majority shareholders.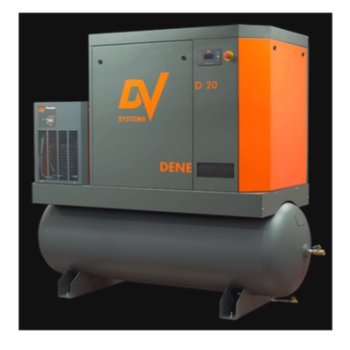 Devair Contact Information
Devair compressor, along with providing support and parts for older Devilbiss air compressors, manufactures both rotary screw and reciprocating (piston) air compressors at their plant in…
DV Systems Inc.
490 Welham Road
Barrie, ON L4N 8Z4
W: www.dvsystems.ca

There is still a company in Tennessee that uses the name Devilbiss Air Power Company and they sell one industrial type reciprocating air compressor. Their contact information is below, and on the Devilbiss air compressor page.
DeVilbiss Air Power Company
P.O. Box 2468
Jackson, TN 38302-2468
W: www.devap.com/ T: 800-888-2468
Devair Troubleshooting, Problems & Fixes
This website page is intended to provide a forum for owners of a Devair air compressor and DV Systems air compressors. There is another page for Devilbiss air compressor owners for folks looking for information on that brand of compressor.
On this page you can post a question about a problem you are having with your Devair air compressor, or, if you have experience with maintaining these compressors, this is a place where you can offer other users advice based on your experience.
The best place for Devair compressor for sale is through the DV systems website. Here you can find the Devair compressor prices, the Devair air compressor for sale, and the most popular models, including the Devair 247 compressor!
FAQs (Frequently Asked Questions)
Where are DV compressors made?
DV manufactures reliable industrial air compressors built to perform in demanding environments, Made in Barrie, Ontario, Canada.
---
If you have any questions about Devair compressors, please leave a comment below, with photos if applicable, so that someone can help you!