Devair Air Compressors & DV Systems Compressors are now, apparently, one and the same. It appears as though the Devair air compressors company has inherited the mantle of Devilbiss air compressors in Canada, and morphed the Devilbiss name into Devair.
Devair air compressors claims over 100 years in manufacturing industrial air compressors. Since they (DV Systems) hasn't been around that long, I take that to mean that they are the original Devilbiss under a new name.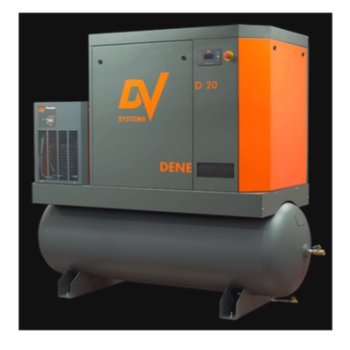 Devair air compressors, along with providing support and parts for older Devilbiss air compressors, manufacture both rotary screw and reciprocating (piston) air compressors at their plant in…
DV Systems Inc.
490 Welham Road
Barrie, ON L4N 8Z4
W: www.dvsystems.ca

There is still a company in Tennessee that uses the name Devilbiss Air Power Company and they sell one industrial type reciprocating air compressor. Their contact information is below, and on the Devilbiss air compressor page.
DeVilbiss Air Power Company
P.O. Box 2468
Jackson, TN 38302-2468
W: www.devap.com/ T: 800-888-2468
This website page is intended to provide a forum for owners of Devair air compressors and DV Systems air compressors. There is another page for Devilbiss air compressor owners for folks looking for information on that brand of compressor.
On this page you can post a question about a problem you are having with your Devair air compressor, or, if you have experience with maintaining these compressors, this is a place where you can offer other users advice based on your experience.
Cheers
Bill