Compressor Pump Speedaire/Grainger Part: 5Z405 The outlet is at a Tee…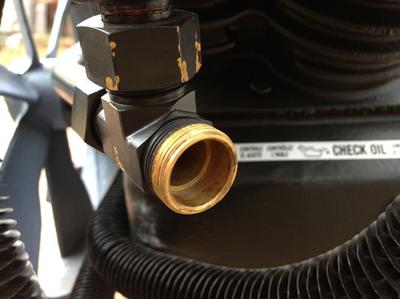 The pipe going into it is 3/4″ O.D. What is the fitting that I can use to attach to this outlet. It is a compression fitting but I can't figure out what to use. I have attached a pic of the outlet. Any info will be greatly appreciated. Thank you.
________________
Thanks for including the photo. When I increase the screen image size it stays clear and I can see the threads.
What I don't know is what this line is for. You say " the pipe going into it is 3/4″ O.D.". Was it or is it the line from the pump to the tank?
I would like to know what was/is normally threaded on to this male thread to be sure.
However, a quick fix is to visit the plumbing store in the brass fittings section and buy a female to female bushing that fits this thread.
Then you can thread a male fitting of any size needed with reducers into the other.