by george wesson
(homosassa, fl. usa)
I have a complaint about my 215914.
How do i adjust my belt on Kobalt air compressor model # 215914 to stop it slipping?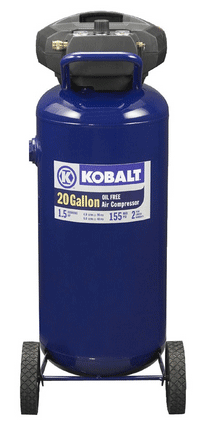 _________________________
George, I don't have one in front of me to check myself, but normally the motor mount will have slot mountings, allowing you to loosen the nuts and move the motor to tighten or loosen the belt.
You will likely have to remove the shrouding, of course.
__________________________
Kobalt air compressor belt
by: Anonymous
I think the belt on my Kobalt air compressor #215914 needs a new belt. Can I buy just the belt somewhere and what tools do I need? It looks like I'll need a large "star" bit and a thin enough wrench to get into the small space to use it.
____________________
Since it's a Lowes brand, start there, for both the belt and the tools to adjust it.
__________________________
Install belt on 215914 Kobalt compressor
by: Anonymous
Looks like the piston rod has to be disconnected on the Kobalt 215914 compressor to get the belt in place.
_____________
Thanks for that. There are so many models of the popular Kobalt air compressors that it's hard for any one person to know them all, and it's tips from owners like you that help.
B.
---
New comment? New question? Please add it here along with photos to help others help you with your compressor and equipment problem!