by Tom Dent
(Parkersburg, WV)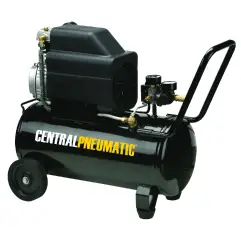 2HP 8gal. keeps shutting down prematurely. Usually will not restart until much later. Changed start capacitor and checked the reset breaker. No help. The unit used sparingly, only 2 years old…?
– Updated –
2HP Central Pneumatic Compressor Apparently it was shipped from the factory OUT OF ADJUSTMENT
After checking everything I could think of or that this Forum recommended, I pulled the sealant off of the pressure reset screws and started to experiment. GUESS WHAT! After some up and down adjustments, the machine began to function as it was designed to do.
Apparently, it was shipped from the factory OUT OF ADJUSTMENT for the proper on and off regarding air pressure. It's now on at 40psi. and off at 120psi. It starts up and runs up to 120 PSI without any trouble.
Everything seems to be working fine. Thanks for your help and suggestions. It's the process of elimination that is important.
---
Tom, glad it worked out.
FYI I think the cut in pressure at 40 PSI is too low. Most air tools need more than that. Typically the cut-in is around 80 PSI or so.
---
New comment? New question? Please add it here along with photos to help others help you with your compressor and equipment problem!