While primarily about Central Pneumatic air compressors, these comments about air compressors that keep popping the reset will resonate with all smaller air compressor owners and users.
Please review the threads, and then, if you wish, add a question using the form at the bottom of this page.
---
My compressor keeps popping reset button
by John
( Greenville Mi)
I turn on my air compressor and it will run up to about 25 pounds and pop the black reset button on the side of motor, i wait a few minutes reset and it will run for about another 10 or 20 pounds and pop button again. I have had this for about 5 year and never had this problem before it would pump up to 110 pounds no problem this is a 21 gallon upright compressor.
____________________
It sounds like the compressor motor is overheating.
Assuming all is mechanically correct on the compressor, then John, I would look to the run capacitor, or the motor itself failing.
---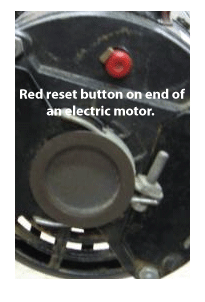 ---
Overload keeps kicking the compressor off
by Dudley
(Montgomery, tX, usa)
The compressor keeps kicking the overload switch and there is no indication of an actual overload. Has anyone had this and found a solution?
Dudley
________________
Overload, as in too high a pressure, or thermal overload, as in motor temp too high?
Please advise.
---
Need a reset switch?
by Vern Bowerman
(San Bernardino, CA)
I need to replace the reset switch as the compressor reset switch keeps popping out. I have to reset the switch in order to use the compressor and I feel that this is happening too many times. I can plug it into the wall plug and it still does it.
____________________________
Vern, does the compressor run for a while before the reset switch pops out, or is it happening on start up?
If the reset switch keeps popping, that suggests to me that the motor is overheating and that it is not the switch that is the problem, but the motor overheating that is causing it.
It would be good if you had included the model number of your compressor, and provided some idea if the compressor is new or well used. If well used, you quite likely have other air compressor problems than a reset switch.
Can you provide more details as a comment here?
__________________________________
Reset switch keeps popping
by: Patrick Hi I have a central pneumatic 3 gallon 100 psi pancake air compressor.
It's a little more than a year old. It just started popping when I hit the reset button.
I unplugged it from receptacle and waited 30 mins. And tried it again but same problem it won't fill up with air since reset keeps popping. Any advice?
___________________________________
Popping switch
by: Mrbig618 2.5HP 125 psi 10GAL NEW 2ND TIME USED POPPING THE SWITCH. WILL NOT RUN AT ALL and just my luck I misplaced my ticket.. what should do..?
_____________________________________
Popping switch
by: Bill Tell us how you are getting power to the compressor please, along with the amperage of the circuit into which you are plugging the compressor, please.
---
New question or comment, Please add it here along with photos.