This page will serve as a hub for all Campbell Hausfeld compressors that won't shut off issues. A collection of reader problems and responses are provided. If you wish to learn more about Campbell Hausfeld, visit our Campbell Hausfeld Air Compressors – Information, Manuals, Service Locations page here!
Table of Contents
Campbell Hausfeld Compressor Won't Shut Off On Automatic?
by Mike
(Fredericksburg, Va.)
With Switch set on automatic no matter what pressure I have the regulator set on the Campbell Hausfeld air compressor won't shut off until I manually turn it to the off position… The compressor is a 20-gallon tank, 5.0 HP, 135 max. p.s.i.
Answer
The pressure switch turns the compressor on and off. The regulator adjusts the air pressure flowing down the airline. The two are not connected in terms of compressor operation.
If the switch, on automatic, is not turning the compressor off, and the tank pressure reaches the normal cut-out pressure for that compressor, then I'd be looking at getting a new compressor pressure switch.
---
WL-6701 Won't Shut Off
by Alex Corbin
(KY)
1. Air compressor won't shut off. When I turn it on it builds up the air, but it won't kick off or stop running.
2. The knob on the tank drain broke off. How can I go about getting a new knob and changing it out, or something?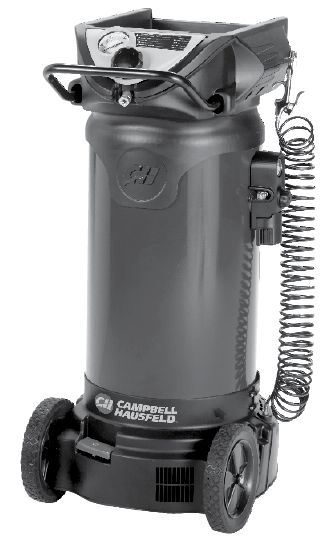 Answer
The WL-6701 compressor has been discontinued. You might download the manual – WL6700 Series manual here and see if the contact info there brings any benefit.
As to the tank drain, expect to have to remove the whole thing and replace it with another. If you google compressor tank drain, you will find many. Pick one that suits you.
---
Campbell Hausfeld Model WL651500AJ Not Shutting Off
by Gregorio Yanez
(Idaho Falls Idaho)
The compressor gets up to 175psi and the air release valve will push loose and let the air out causing the it to keep running and the air compressor won't shut off.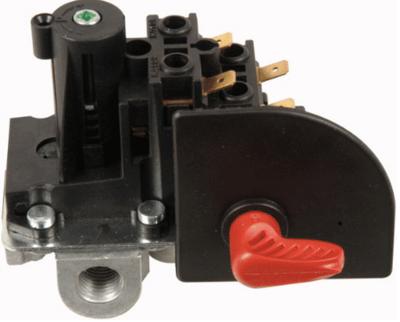 How much psi is regular for the compressor to stop at? And what can I do?
Answer
I believe the cut-out is 150 PSI. If the compressor continues to build pressure past that point, it's time to replace the pressure switch.
---
WL610001AJ Campbell Hausfeld Air Compressor Won't Shut Off
by Mike Cestare
(Manorville, NY)
WL610001AJ Campbell Hausfeld Air Compressor won't shut off. I used to turn the regulator adjustment knob as it reached 100psi and then it would shut down ( I think it is called a regulator adjustment knob), and the unit would turn off and turn back on as I used my tools.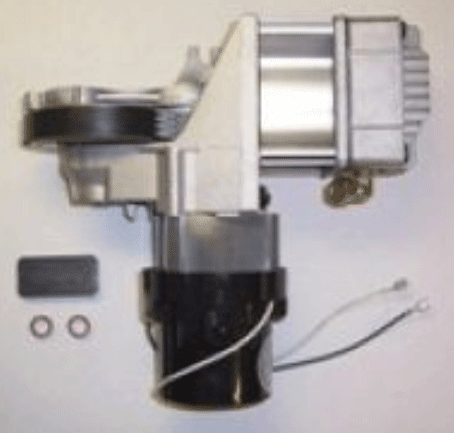 Now it just keeps running. it builds pressure fine, but no matter which way I turn the regulator knob, it just keeps running. I only allow it to get to 110 psi as it states it is 125 psi maximum.
The other thing I notice is that after it gets to say 11psi and I pull the plug, release some air pressure (say down to 80psi), and then go to plug it in again, instead of running, it sounds like to motor is bound up and just hums and the lights in the garage on the same circuit dim as though the breaker is about to trip.
I noticed that there seems to be a release valve that connects from the pressure switch to the tank, and if I manually push the switch it releases a little air, and then if I plug it in, it starts right up again.
Do I have two separate issues??
Any help is appreciated.
Thanks,
Mike
Answer
Yeah, Mike, it sounds like you've got a few things going on with your Campbell Hausfeld Air Compressor.
First off, read the page on this site about pressure switches. These are the devices that control the on/off of your air compressor, not the air regulator. Adjusting the air regulator will do nothing for the turn on or turn off of any air compressor.
Please read the page on air regulators too to get a better understanding of how they work. This will give you a good grounding on this important piece of compressor equipment.
As to the lugging on startup, that's probably covered by the information on the unloader valve page, so have a look at that. If the unloader isn't working there's an additional load on the motor, and it may not be able to overcome that to start or run properly.
If the unloader is OK, and nothing is new in the power supply to the compressor, it's time to check the motor capacitor(s). There's a page on this site to explain how to do that.
Then, if you're still not sure, the troubleshooting page on why air compressors won't start will give you some more things to check.
When you're done, post a comment here telling us what you found, please.
---
If you have any questions about Campbell Hausfeld air compressors not shutting off, please leave a comment below, with a photo if applicable, so that someone can help you!