Where can I buy parts for CP 95275 compressor, asks Fred from Pa?
……….
Fred, this compressor is still available new from Harbor Freight, so it looks like the after-market parts vendors haven't begun building inventories of some of the spares needed, if, in fact, any ever do.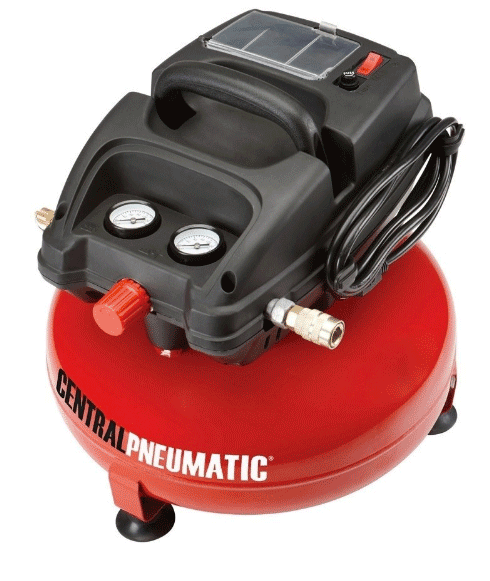 What parts are you looking for, please?
Depending on what they are, you can either use parts from other vendors, parts from other Harbor Freight air compressors, or in some cases, make your own.
Knowing what parts you are after will help others help you find them.
……….
Our little 95275 compressor got slower and slower to build up pressure until it finally stopped. The motor runs fine. And you can hear the compressor trying to work. We took it apart and found that the "ring" on the piston was worn half away, comments Ray S.
Where can I purchase a ring this size? It's about 1/4 inch wide, or a little less. It is split at one point to allow it to fit over the piston. Am awaiting your reply. Ray
……….
Ray, as indicated in an earlier post, this compressor is still available from HF. Parts for it are not in the parts chain right now, and in fact, may never be!
Why? Because right now you can buy the whole air compressor new from HF for $59.99.
So, it were me, I'd buy a new one, and keep the old one for spares.
I doubt you'll be able to buy the part for less than $10-15 and maybe more. Buy the whole compressor. It will probably be cheaper and then you'll have a bunch of spare parts when the new one starts to fail, as it will.
……….
I have tried numerous times to get parts for Harbor Freight products. It is impossible. Only buy their products if you are ready to throw it away and buy another one, this suggestion from an Anonymous visitor.
……….
Not being able to acquire parts is not unusual comment about this brand, and the critique is certainly valid.
On the other hand the Central Pneumatic 95275 Air Compressor is currently on sale at Harbor Freight for $39.99 (March 2019) and one would be hard pressed to buy parts for this compressor should they be available for a lot less than the cost of the new, whole compressor.
Nor should it be a surprise that parts aren't available for this presumably throw away compressor.