by Bill Budd
(Drums, Pa, USA)
Hello, Cannot find out where I can get an oil tank breather fitting for my Jobsmart TA-25100VB. I have tried everything on the internet with no findings, can you please help me?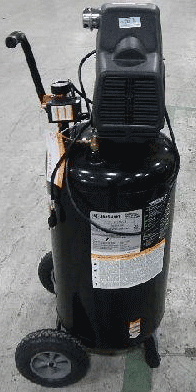 ________________________
Jobsmart TA-25100VB reeds
by: Doug in s.d.ca.
Did you try TSC already? Their form:
https://www.tractorsupply.com/tsc/customer-solutions
If they can't help, you probably will need to make your own. There are pages on this site about how to do that.
Sorry, but let us know if TSC helps, please, to help others.
---
Red adjustment knob
by: Anonymous
Need to know how the red knob goes on the Jobsmart TA-25100VB compressor
___________________________
Red knob
by: Doug in s.d.ca.
That'd be the regulator knob.
Should just screw on, although you might have to push it to get the spring down to catch the threads.
---
Need reed valve for jobsmart ta25100vb compressor
by: Eric Gormsen
Can anyone tell me where I might purchase a reed valve assembly for my jobsmart ta25100vb compressor???
_________________________
Orders from TSC
by: Jon
$3.50 for the part $7.75 for shipping…?‍♂️
---
Job smart ta 25100 v b air compressor
by: Mad as hell
Went to harbor freight bought job smart compressor ta 25100 v b in July of 2016, now January 2017. The motor expired, was not used much, a piece of s**t, would not recommend any one buy this model.
__________________________________
Dear mad as hell
by: Bill
While I can appreciate that you are unhappy with the demonstrable lack of quality your air compressor exhibited, I would question that you bought a Job Smart Compressor (the house brand of Tractor Supply) from a Harbor Freight store, as they typically sell Central Pneumatic compressors which is the Harbor Freight house brand.
You say the motor expired? Odd that. I am curious as to how you tested the compressor motor? Any information about that for other users would be helpful.
---
Need part
by: larry
need a aluminum fined air line….don't know part#
---
Got a new oil cap
by: Anonymous
Just got one. Called Tractor Supply at 888-376-9601.