Hey! This site is reader-supported and we earn commissions if you purchase products from retailers after clicking on a link from our site.
by Tim
(California)
I have a 3 Gallon Craftsman Compressor that likes to walk on the concrete garage floor when running.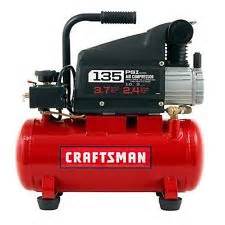 It has four hard rubber padded feet that came with it. It can only go so far due to the power cord, but its a little annoying. Wondering if those 4 x 4 Vibration Pads will do any good?
Thank you
__________________________
Maybe floor level?
by: Doug in s.d.ca
But is the floor level with all four solid on the ground?
I'd probably use a small chain to hold it if all else fails.
_________________________
Response to Doug
by: Tim
Floor is level with your standard smooth trowel concrete tract house finish. Wondering if those vibration pads would still move around since it is not exactly a heavy weight.
Thanks.
___________________________
Pads
by: Doug in s.d.ca
Probably. But there's nothing stopping you from trying them.
Maybe if you made a wood thing kinda like a pallet and put it on that? (I'm thinking more surface area on the floor might be enough to stop it.)
_____________________________
Same issue here
by: Anonymous
I have the same issue. Thinking about putting a softer vibration foot under the existing feet, so that the pad has enough give to take the vibration without scooting across the floor. Otherwise, this is a great little compressor so far.
______________________________
Tim in California – Problem solved!
by: Anonymous
I solved the problem. My dad had some old industrial rubber grating (kind with holes or perforations). I cut a narrow piece from the overall square piece. Now it does not move at all. I realize not everyone will access to heavy duty rubber grating pieces however, but it worked 🙂
---
New comment? New question? Please add it here along with photos to help others help you with your compressor and equipment problem!