How do I know what the PSI is set to on my airbrush compressor?
My compressor is for my airbrush to spray paint and it is really old but still in great shape! There is no dial on it to change the PSI setting.
I'm starting to use it for airbrush makeup and i know it should be no higher than 15 for that. But I have no idea what it is! Its a small compressor so I'm thinking its not much more then that but how do I know for sure?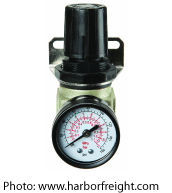 ______________________
You know for sure by installing an air regulator, with an air gauge, in the line from your compressor to your air brush.
That regulator can be set for your 15 PSI, and, as long as the upstream air pressure is higher than that, your air brush should see a steady stream of air at the dialed in pressure of 15 PSI, or whatever pressure you choose to set it for.
Low cost general purpose air regulators are inaccurate, sometimes by up to 5 PSI. If you need bang-on accuracy, you'd best look at a precision regulator. For that quality, be prepared to dole out a good bunch of books.
Also, read the page on Regulators on this site for much more info about what these useful devices do for you, in particular, for painting applications.
---
Is there any advantage to lowering the factory pressures on an Airbrush Compressor?
Christian:
Hello, I'm in Ecuador, just bought this Dongsong to run my hobby airbrushes. The factory settings are 115 and 70psi. I airbrush around 15psi. Is there any advantage to lowering the factory pressures?
---
Bill
Yes indeed, but you do that with the regulator, not by adjusting the pressure switch.
The pressure coming from the tank should be lowered to the minimum operating pressure at which the air tool, or in this case the air brush, will do the work expected via adjusting the regulator. Various viscosities of paint may require pressure adjustment.
---
Christian
Yes to using regulator to set airbrush pressure. I'm curious if I'd meaningfully reduce strain on the compressor itself by reducing the max tank pressure, say from 115 to 85, and still have enough pressure for the brush.
---
Bill
Not necessary, Christian. The compressor is designed to work within the factory parameters of the make and model.
By dialing down the cut out pressure below the factory setting, assuming the pressure switch offers that option since some don't, what you will accomplish is to cause the compressor to cycle more often than necessary, and that itself is negative to it. It's our opinion that if it "ain't broke, don't fix it!". Cheers.
---
Christian
Thank you for sharing your knowledge, I'll leave it alone.
(You are most welcome! Enjoy playing with your new toy.)
---
New comment? New question? Please add it here along with photos to help others help you with your compressor and equipment problem!