An overheating Campbell Hausfeld air compressor typically comes down to one of several factors. If a Campbell Hausfeld air compressor is overheating, something is definitely not right, and you must diagnose and fix the problem pronto. This article will provide you with the reasons why your Campbell Hausfeld air compressor is overheating, and what you can do to prevent this from occurring.
Table of Contents
Reasons Campbell Hausfeld Air Compressor Overheats
If your Campbell Hausfeld air compressor is experiencing overheating, it is likely due to any of the following reasons in the Table below, accompanied by tips:
| Reason | Tip |
| --- | --- |
| Low suction pressure & excess discharge pressure | To keep suction pressure and discharge pressure levels under control, you must inspect components frequently for any signs of issues. |
| Insufficient or eroded oil | When oil becomes old it will typically begin to erode and harden, resulting in the interior parts of the compressor system moving without sufficient lubrication. This is the same if you have insufficient oil within the system. |
| Old or clogged components | Components of an air compressor will naturally wear down with age, forcing the system to work harder to complete its basic function of providing compressed air to your end-use. They need to be monitored and replaced when suitable. |
| Defective thermal valve | It's recommended to have a replacement thermal valve on hand in case the preexisting valve on your machine needs to be changed out at any point, and also to act as a comparison to know when the other is faulty. |
| Ambient temperature | If the air compressor is located within a warm area, the machine is liable to have far more difficulty adjusting to the incoming air at its desired levels of coolness. |
| Inadequate ventilation | Is the air compressor able to sufficiently ventilate? If the air compressor is placed in such a way that the vents are facing against a wall directly, the air compressor should be turned or possibly moved to another area. |
| Type of air compressor | If you are running heavy-duty pneumatic tools for extended periods of use from a small air compressor, you will likely run into performance issues that will result in the air compressor overheating. |
| Frequency of use | The frequency of use of the air compressor is going to contribute to the amount of wear and tear that an air compressor system experiences. The speed of the wear and tear depends on the length of time the compressor is operating at temperatures. |
Reasons Campbell Hausfeld Air Compressor Overheats & Tips Table
To be able to combat your Campbell Hausfeld air compressor overheating, you should seek to:
Improve ventilation
Monitor ventilation
Inspect oil level and filters regularly
Replace parts when necessary
For more detailed information on an air compressor overheating, visit our guide here!
Reader Questions & Responses
Campbell Hausfeld Air Compressor Overheating – Troubleshooting Campbell Hausfeld Air Compressor
Question
When running my compressor for an extended period of time compressor overheats. Say shooting paint or using air tools.
After a period of time of running the compressor shuts down.
I have to wait for about 30 min before it allows me to restart it.
Do I need to replace something inside the motor and or a regulator?
Response
It would be good to know the model of the Campbell Hausfeld air compressor we are dealing with, first of all.
However, what you need to do is check and see what rating your compressors have as it relates to the duty cycle. Based on our symptoms you may be running the compressor to the point of overheating, and in order to protect itself, a thermal cut-out engages and the compressor shuts down to cool. This thermal cut-out is referred to as the air compressor reset button.
With the absence of info on model, HP, tank size, etc. to corroborate this, my gut feeling is that your air compressor may be just too small for the work you want it to do.
---
Campbell Hausfeld Air Compressor Overheating – Campbell Hausfeld Air Compressor Troubleshooting
Question
After running for a while electric motor gets hot and shuts down and I have to wait an extended period of time before normal operation. What could be the problem?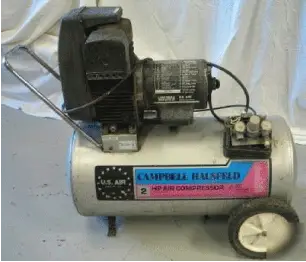 Response
How long is running it "for a while"?
My rule of thumb for smaller air compressors, particularly those that are not rated for 100% duty cycle, is 10 minutes on, and 10 minutes off to allow the motor to cool.
If this is a new circumstance, and nothing else has changed including the power supply and the length of run time, advise as a comment here, and we'll press on helping you resolve the issue.
Questioner
My compressor is not a small one it's rated to use with air tools and spray paint tools air nailers tank fills up fine but after it is on and cycles a few times the electric motor is very hot and the compressor just stops working
Response
I certainly didn't mean to insult your air compressor, friend. Small is a relative term, and, now that I've gone out and found an image of the same type of compressor you've got, in the overall scheme of things, a 2 HP is a small compressor.
Having said that, if the problem is a new one, and nothing else has changed – power supply, length of power cord, length of time used each time, and the motor is now overheating, my inclination would be to determine if the start/run and or start and run capacitors are working properly.
They (it) are located on the side of the motor near the shaft end. See the page on this site about how to test them.
B.
Response
Again –
Please specify what "a few times" means, and over what period of time?
How long is the motor off before it turns back on?
Questioner
How do gain access to the capacitors for checking? And thanks, Bill for helping.
Response
James, as I said, "They (it) are located on the side of the motor near the shaft end. See the page on this site about how to test them."
You will have to dismantle the shroud and possibly the motor cover to find them.
Bill
Response
Can you identify the motor itself?
You should be able to get the cap specs from that.
Questioner
Hi Bill
Finally got to the capacitors on my compressor one of them was obvious that it was bad and I think that it is the start capacitor.
My only problem is that there are a lot of numbers on it and I don't know which one is the part# some are even rubbed off I have been online to find a replacement but don't know which series of numbers to use I need help in this matter.
Response
Please see this page: https://about-air-compressors.com/what-capacitor-does-my-compressor-need.html
---
If you have any questions regarding Campbell Hausfeld air compressors overheating, please leave a comment below, with a photo if applicable, so that someone can help you!