As I'm writing this page about Brunner air compressors, I wonder what the Brunner Air Compressor Corp., established in 1963 in New York State and gone bankrupt in May 1966, has to do with the Brunner air compressors that have been in use in North America since when, the late 1910's or thereabouts?
Probably little. I could not find a connection. If you know of one, please add it as a comment at the end of this page.
Questions about Brunner air compressors still ricochet around the internet however with some landing on about-air-compressors.com with regularity. You may find some answers on this page if you scroll the existing comments.
In my research about this brand, I discovered a photo of this beauty, a restored 1951 Brunner.
If you wish to see more photos of the restore, visit: https://www.practicalmachinist.com/vb/antique-machinery-and-history/air-compressor-brunner-1951-powered-wagner-electric-motor-246958/.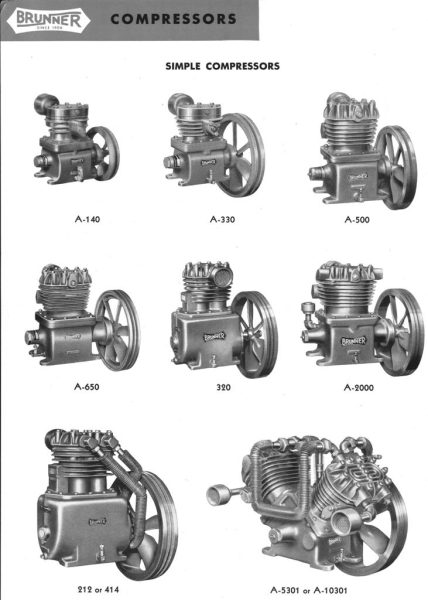 This page is here to help those with Brunner air compressors find information that may not be available elsewhere, to ask questions about their Brunner compressor, and, if they have the experience and knowledge to help another Brunner owner, to give advice by commenting on the specific questions below.
I am grateful to Mike Stubblefield who was kind enough to put together and provide the files linked below. Click the link to download this Brunner information to your computer.
Brunner compressor information:
Mike would like to hear from other Brunner air compressor owners and encourages folks to add a comment with their contact info for him to reach out to you.
Bill
Existing postings: