A lot of folks are interested in this page about I turn a Husky compressor on and nothing happens!
While a linked page on this site about Husky air compressors offers visitors a broad range of info about this brand, this page is about this one specific issue with Husky compressors.
Here are some visitor comments and responses about turning a Husky air compressor on with poor or not results.
---
Turn Husky compressor on and nothing
by Kt
(Sanford,fl)
Turn on and nothing, one day it worked, next day nothing. Not used a lot, can't find reset switch or manual.
Compressor doesn't do anything when turned on, it's not used a lot…and fairly new…can't find reset button or manual
---
turn the Husky 60 gal. compressor on and will not run
by william
(mesa az )
info on the compressor :
Husky 60 gal. single stage stationary electric air compressor features a cast iron, oil lubricated pump. For maximum performance and efficiency the Husky 60 gal. runs on a heavy duty induction motor. 155 psi max pressure allows the user optimum tool performance.
•CFM at 40 psi is 13.4 and CFM at 90 psi is 11.5
•Large capacity, 60 gal. ASME air receiver provides more air for longer run times on air tools such as ratchets, impacts, spray guns, hammers, etc.
•Equipped with pressure gauge and on/off switch
•Supported by our toll free help line 888-895-4549
•Shipped with synthetic oil for optimum performance and long life
my issue
i just used it the other day with no issues i tried to use it last night turn the switch and nothing happened . checked the breaker its fine , checked the reset button on the motor that was fine , pulled the cover off the compressor switch seen everything connected and that looked to be fine what should be my next step or what do i need to do to fix this issue
Husky air compressor pipe set up
---
Husky DK643500AV compressor motor dead
by john
(escondido, ca)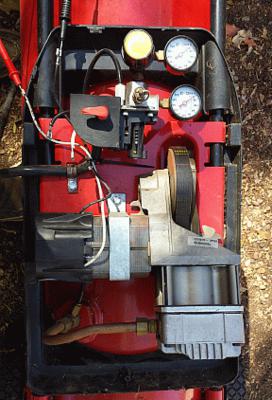 Husky DK643500AV 5.5hp 26gal
Up until a couple of days ago, compressor worked fine but I noticed that lately it only charged to about 60psi. Then it would not restart after being off for about a day. Light usage through the years (about 10 years old)?
Diagnostics I Tried:
1. Tank drained to zero, even pulled over-pressure plug.
2. Disconnected motor wires from switch and wired them directly to AC. Nothing. Does not make any noise or even indicate that it is getting power. This means that the pressure switch is not the problem.
3. Read about capacitors on your site but could not find any (picture attached). Wires seem to go right into windings. Black cover does not look like it comes off easy (snap on bottom is obscured). However another post says that if caps are fried then it will not start and you will need to pull the motor. Ugh.
4. Checked ohms on motor leads (that is what you see in the picture). It reads as 1 on the meter, meaning it is an open circuit … as if the motor was not even attached. I sorted the leads to the motor, nothing so no cap charge waiting to surprise me.
5. Motor rotates freely (some resistance) by hand. Linkages all seem to work, fans are in good shape. Hesitant to try to remove motor because copper pipe on bottom is shaped for a specific position and that would be a pain to replace.
6. Saw CHPower.com reference and phone of 800-543-6400 if you all think I need to replace the motor.
---
Turn Husky compressor on and nothing happens? Got a question?
If so, do add it here, and please upload some photos focusing on the problem area?