There have been many folks that wish to inquire about why their Husky air compressor not turning on and other questions along those same lines. This article will present some of the reasons this may be happening and Husky air compressor troubleshooting suggestions to resolve those issues, along with existing reader problems.
Table of Contents
Reasons Why Your Husky Air Compressor Won't Start
The main reasons as to why your Husky air compressor hums but won't start are likely to be due to any of the following reasons summarized in the table below:
| Potential Issue | Tip |
| --- | --- |
| Power issue | Avoid using power bars and power strips. |
| Fuse or breaker blows | Circuit breakers will trip off when a power surge blows their fuses. If the fuses are faulty, you will need fuse replacements. |
| Faulty pressure switch | Unplug the Husky compressor from the electrical outlet before opening the drain valve releasing the air from the tank down to zero and then closing the drain. |
| Faulty thermal overload switch | Check the thermal overload switch to ensure it is working correctly. |
| Faulty unloader valve | Check unloader valve, if faulty pressure switch may not work. |
| Insufficient oil | Check the oil level, and inspect under the pump area for any potential leaks. |
Reasons Why Your Husky Air Compressor Won't Start
Please visit our Air Compressor Won't Start – Ways to Fix Air Compressor Won't Turn On Problems guide for more detailed Husky air compressor troubleshooting & fixes!
FAQs (Frequently Asked Questions)
What would cause an air compressor to not turn on?
The first and most obvious thing to do when your compressor does not turn on is to make sure that the unit is correctly receiving power. It is always possible that a fuse has been blown or that a breaker has been tripped. Other reasons may be due to a faulty pressure switch, unloader valve, or thermal overload switch.
Existing Reader Problems
Husky Air Compressor Won't Start
Turn on and nothing, one day it worked, next day nothing. Not used a lot, can't find reset switch or manual.
Compressor doesn't do anything when turned on, it's not used a lot…and fairly new… can't find a reset button or manual.
---
Husky Air Compressor Will Not Run
Compressor Information
Husky 60 gal. single stage stationary electric air compressor features a cast iron, oil-lubricated pump. For maximum performance and efficiency the Husky 60 gal. runs on a heavy-duty induction motor. 155 psi max pressure allows the user optimum tool performance.
CFM at 40 psi is 13.4 and CFM at 90 psi is 11.5
Large capacity, 60 gals. ASME air receiver provides more air for longer run times on air tools such as ratchets, impacts, spray guns, hammers, etc.
Equipped with pressure gauge and on/off switch
Supported by our toll-free helpline 888-895-4549
Shipped with synthetic oil for optimum performance and long life
Issue
I just used it the other day with no issues I tried to use it last night to turn the switch and nothing happened . checked the breaker it's fine, checked the reset button on the motor that was fine, pulled the cover off the compressor switch saw everything connected and that looked to be fine what should be my next step or what do I need to do to fix this issue
---
Husky Air Compressor Won't Turn On
by john
(Escondido, ca)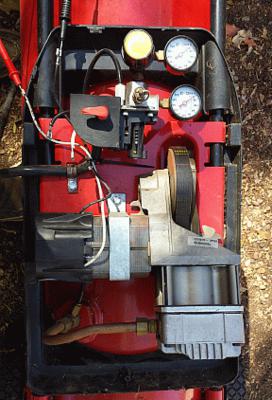 Husky DK643500AV 5.5hp 26gal
Up until a couple of days ago, the compressor worked fine but I noticed that lately it only charged to about 60psi. Then it would not restart after being off for about a day. Light usage through the years (about 10 years old)?
Diagnostics I Tried:
1. Tank drained to zero, even pulled the over-pressure plug.
2. Disconnected motor wires from the switch and wired them directly to AC. Nothing. Does not make any noise or even indicate that it is getting power. This means that the pressure switch is not the problem.
3. Read about capacitors on your site but could not find any (picture attached). Wires seem to go right into windings. The black cover does not look like it comes off easy (snap-on bottom is obscured). However, another post says that if caps are fried then it will not start and you will need to pull the motor. Ugh.
4. Checked ohms on motor leads (that is what you see in the picture). It reads as 1 on the meter, meaning it is an open circuit … as if the motor was not even attached. I sorted the leads to the motor, nothing so no cap charge waiting to surprise me.
5. Motor rotates freely (some resistance) by hand. Linkages all seem to work, fans are in good shape. Hesitant to try to remove motor because copper pipe on the bottom is shaped for a specific position and that would be a pain to replace.
6. Saw CHPower.com reference and phone of 800-543-6400 if you all think I need to replace the motor.
---
If you have any questions regarding a Husky air compressor not starting, please leave a comment below, with a photo if applicable, so that someone can help you!