by Mike
(Lebanon, Oregon)
Hi Bill,
I recently saw a DeVilbiss Pro Air II, 6.5 HP, 80 gallon, 175 psi, two-stage vertical air compressor similar to the one in the photo, and I am trying to figure out how much I might offer for it.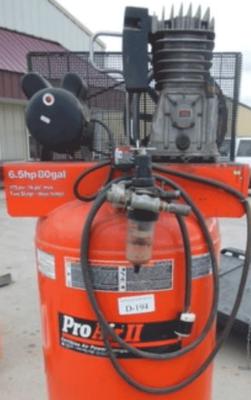 I am not at all familiar with the brand. It appears to be an old model. I can't find any guidance through the usual internet resources. Are you able to assist in providing some information?
Mike.
_________________________
Value of DeVilbiss air compressor.by: Anonymous
I have had several shops, I have found that you can't buy a 60 or 80 gallon compressor for less than $300.00. That is the cheeper brands. The quality brands are always $500.00 minimum.
When buying used, there is always that chance that the tank is rusting out or the pump is weak.
But if you know what to look for when checking out the compressor, you should be ok.
Look at the new prices on the upper brands$1,500.00 minimum is what you will find.
Your guesstimate of $100.00 to $300.00 is way below value for that quality.
The cheeper brands go for the $100 to $300.00 range used.
________________________
DeVilbiss Pro Air II
by: Doug in s.d.ca
Probably nothing, unless it's local and you can pick it up.
Then, maybe 100-200 bucks, if the tank and pump are good.
________________________
Really?
by: Anonymous
Really??? Try buying an 80 gal for $200.00 bucks.
______________
Anon:
by: Doug in s.d.ca.
Really?
It's old, no way to know how good or bad the pump/tank is.
Either one could be minutes away from failure.
Could be more if maintenance records available, but that's not likely.