by kyle
(Indianapolis, IN, Avon)
My Bostitch CAP2060P compressor will not start.
Switch OK, power all the way to the motor. I have had the compressor for 3yrs, and it rarely used.
I plugged it in to air a flat tire and it would not start (no noise nothing). Where should I start trouble shooting? Any suggestions?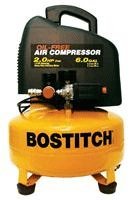 After use my compressor I noticed water sediment coming from my grinding tool and my compressor would not kick back on and pressurize the tank.
After reading your post and troubleshooting guide I found a considerable amount of water in the tank.
I drained the tank and the compressor initially started and pressurized the tank, but would not auto kick back on after the air was depleted.
Now the compressor will not start at all.
________________________
Good that you checked that there was power in the wall socket, to the switch, past the switch to… the pressure switch.
Can you use a meter to determine if, when the compressor tank is empty, that power is actually passing through the pressure switch?
If it is, then time to check the motor start cap. See that page on this site too.
___________________________
Compressor will not start – Found the problem
Bill, I found the problem. An improperly crimped power wire (inside a connector) going to the motor, making intermittent contact. I re crimped the wire and compressor is now running.
Thanks for your help
_____________________________
You are very welcome and I'm glad I could do so.
Bill
---
Another Bostitch won't start – no electrical power and Bostitch compressor won't start?
by R. Stuckey
(Dub arch, Louisiana)
Air compressor will not come on at all. I thought it was a bad on/off switch and have replaced it I have verified that I have electrical power all the way to the motor. What is my problem.
_____________________
A wander through the troubleshooting section on this site, and a click on reasons why an air compressor won't start, would likely give you the answer.
That you checked that you have power all the way to the motor is a good first step.
That being the case, I would suspect that either your start capacitor has failed, or the motor itself is suspect.
You can check the cap to see if it's working. See the how to do it page on this site and then please leave a comment to let us know if that was the problem?