by Allan Ryan
(Wading River,Long Island)
Air is escaping from the vent in the front of the governor casing.
It seems to be fed from the tube that runs from the outlet of the high pressure piston that runs to the storage tank.
There is a tube connection to the outside of the governor casing from the top of the discharge port of the hp cylinder.
I removed all valves on the piston heads,disassembled,cleaned and re-installed..Still have the same problem. This is a Speedaire compressor 3Z180 Champion dual stage pump. The ID. at the pump base is: NR-14-6A.
Any suggestion would be appreciated.
Thank-you, Allan Ryan
________________
I suspect the problem may be a leaking tank check valve, Allan.
Please see the check valve page on this site for complete information about how this component works and how it prevents air leaking from the tank out the unloader valve when the air compressor is off.
If that isn't the issue, please add a comment.
---
3z180 air escaping
by james
(Chatt. tenn)
I have 3z180 compresser.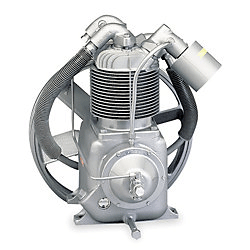 Air is escaping from vent in front governor casing.
I have install new check valve.
---
New comment? New question? Please add it here along with photos to help others help you with your compressor and equipment problem!