by bill
(UK)
Hi,
Firstly what an informative site, I'm new to compressors and what i have learnt reading through the site has been amazing.
Anyway back to my question…
I have a 3hp 2.2kw 14cfm 400L/min compressor with a 200 litre tank.
I have a 100 foot 3/8 id hose.
The main tool i will be using is an impact wrench rated at Average Air Consumption cfm 5 and 142L/min. Air Consumption @ Load cfm 24 and 680L/min. Will my air wrench work properly?
I wont be holding the trigger constantly but short bursts as you do with impact wrenches. The reason for the long hose is i have a very large yard and the only place i can store the compressor is 100 feet away from where i need my air tools.
If this will not work properly what sort of power compressor should i look to get to run my air wrench properly? Air wrench is very important to my line of work.
Thanks
______________________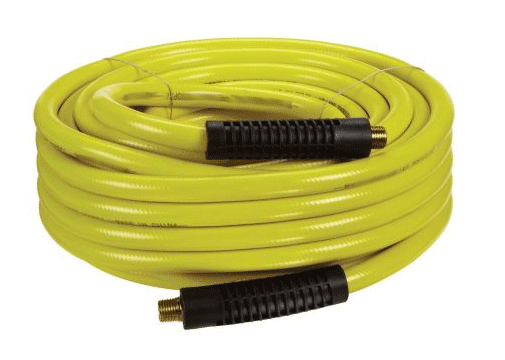 First off, it's always better to run with a long air hose, than to try and move the compressor closer to the work place by using an extension cord of some type. Your electric motor can be damaged by running it with too low current flow, which can happen if an extension cord isn't the right gauge.
With an air tool, all that will happen is that the tool may not perform correctly if you have too small an air supply. It will not damage the tool, and to correct it may be a simple as using larger hose.
In your case, all I can tell you is to plumb the tool with the 100′ hose, and if that doesn't provide enough air to feed the wrench due to pressure drop, move to a larger I.D. hose. Sorry, but I have definitive info.
Read the pages on pressure drop and air hoses on this site for more info as what you don't know may cause you some problems.
The good news is that by underfeeding the air tool with air, you won't hurt it!
---
New comment? New question? Please add it here along with photos to help others help you with your compressor and equipment problem!