by Dave H
(Shelton Ct)
I've had in my possession for about 3 1/2 years now a very old Kellogg American compressor. It was traded to me for mechanic work on a friends vehicle.
There is no plate on the tank other than the plate next to the compressor that says "The American Brake Shoe Company Kellogg Division Model A320A"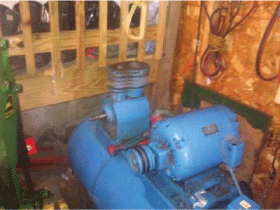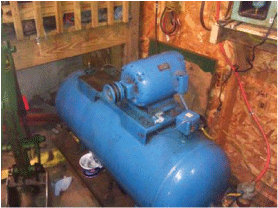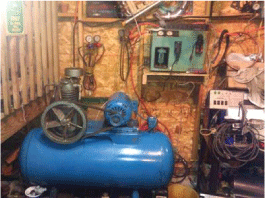 The compressor is a 2 stage unit that runs up to ~150 psi. The tank appears to be 60 gallons from the very slim pickings i've found on the internet, but to me the tank looks larger than that, maybe 70-80 gallons.
The Cutout switch is adjustable, and the blowoff valve reads 200 psi on it. Is there any way to figure out what the tank is rated at?
I was hoping to run the unit to 175 psi like the information i found here.
www.garagejournal.com/forum/showpost.php?p=1341421&postcount=1
The compressor is off for a rebuild right now, and a Kellogg American 325TV is in it's place for temporary use only.
The Electric motor reads "Delco Motor Model A5397 Serial G-3-46 110/220 Volts 20/10 Amps 1 1/2 HP and there's more i just can't remember it.
I know it's very old, I'm guessing 1940s, going by the Brush-type motor and poured Babbitt connecting rod bearings in the compressor.
I've attached a few pictures as well.
Thank you Bill.
__________________________
Parts for Kellogg American compressor
by: Dave
I ordered my valve rebuild parts from Scales Air Compressor out of New York. They had a full rebuild kit in stock (gaskets, seals, valve parts, new rings).
They also have the tools to rebuild the head yourself, save for one. There are 4 tools, but one they sent me ended up being a defective batch(mine failed on first use and all the others failed the same way when the guys at the shop tested them). I ended up using one of those disc brake squares from an auto parts store in place of the defective tool and it worked fine.
Does your 1.5 HP motor ever make something not unlike a vibrating sound sometimes? Sometimes mine will just hum along silently and other times it makes that noise. If i put my hand on the motor while it's running i don't feel any vibration. The motor shaft has play in and out, but no side to side play like bad bushings.
Any idea if it's just some odd occurrence or if it sounds more severe?
Thanks,
Dave
____________________________
1946 or 1947 A320A compressor
by: Grant
I've got a 46 or 47 a320a, and that 1.5hp motor was all it ever needed.
The head on mine gave out earlier this week and I've been on the search for parts or someone who can refurb it.
I've had the compressor since the mid 90's and it's never let me down. It's amazing the torque the old 1.5 motor has, and it just hums along nice and quiet.
____________________________
A320A motor
by: Dave
I can guarantee the motor is original. From the pictures I've seen straight out of the ancient Kellogg(then American Brake Shoe Kellogg Division) books online that's what the motor looked like. Also the A320A was rated to have a 1 1/2 HP Delco motor, which is exactly what mine has.
The serial number is G-3-46, so I'm guessing March of 1946 for build date.
Not sure what else such a simple serial number would be used for otherwise.
I was surprised that it was only 1 1/2 HP, being as large as it is, but it has a ton of torque. It's not an over rated capacitor start motor like now a days. Now you see compressors with motors 1/2 the size of mine that say "6 hp" on the compressor tank, but the tag on the motor is blank under the "HP" section, because the motor isn't that strong.
_______________________________
Kellogg American compressor
by: pcbeachrat
Please let me know what happens here and what you find out.
I have a problem with the motor must have been changed,but yet I am guessing..I just cannot see a 1 1/2 horsepower motor being on A 2 STAGE PUMP?
Possibly if it was 3 phase electrical but not on a 10 or 20 amp electrical option…the 20 amps will pair up with a light 2 stage pump,but 10 amps on the 110 side will not,I don't think,so I cannot answer your question,but would like to know the outcome myself when you find out…RThanks..
The above are just my suspicions,and own thoughts,so the thoughts are not written in gold..but just wanna know…BTW..kellog is one of the best pumps made!!
---
New comment? New question? Please add it here along with photos to help others help you with your compressor and equipment problem!