by Dennis Vinas
(Batavia, IL. USA)
We acquired a used GA-90 SN: AIF .079712 a couple of months ago. I installed the compressor and coupled the outlet port to 2-250 gallon air-holding tanks (in parallel) and output to a brand new Atlas Copco FX-15 Air Dryer. Compressor has been running seamlessly since I first started it in mid-August/2016.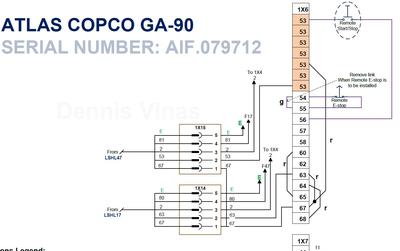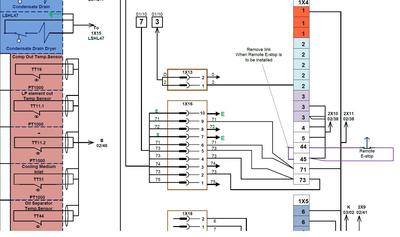 I ran a remote Start/Stop, E-stop station outside of the compressor room. In remote mode, I can start the compressor but it won't put out any air. I switched back to Local control mode and the compressor puts out air normally as before.
Can anyone tell me what I am missing?
I have attached a screenshot drawing for the start/stop and E-stop circuit I added. The E-stop has 2 normally closed contact blocks. The Start push button was initially a momentary NO contact block because the book says not to use a maintained-action button. I switched that to a maintained NO contact when I noticed on my first attempt to start that as soon as I released the start button, the compressor stops.
Do I need remote load and unload feedback to the control unit as well?
Thank you for taking the time to read through this.
______________________________________
Remote Start – Stop
by: Doug in s.d.ca
I suspect your last sentence is your answer.
But I can't really read the drawings – too compressed.
Perhaps you can upload less compressed images?
_______________________________________

Remote Start/Stop
by: Dennis
Atlas Copco GA-90 stops using its resident Load/Unload Pressure Switch as soon as it is set for Remote Start/Stop so I had to put in a pressure switch with a deadband of 85 PSI and a switch point of 107 PSI downstream of the Air Dryer, right before air flows to the rest of the building.
The E-stop circuit (2-chains; 120VAC and 24VAC) stays active in any mode; Local or Remote control. I would have uploaded my .pdf schematic but the site only supports photos.
(This site now accepts a variety of uploads – moderator)
---
New comment? New question? Please add it here along with photos to help others help you with your compressor and equipment problem!