by Alvin
(Louisiana)
Need to know what the part number is and where to buy the unloader tube for a Central Pneumatic 40400 . Approx cost?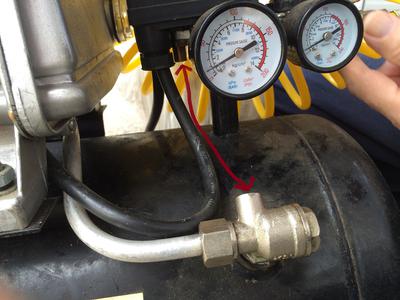 This is the hose that goes from the tank to the regulator dials. The end connector pieces are worn. The hose portion blows out when the compressor hits approx 60 psi.
The end that pops out is the one closest to the tank.
____________________________
Unloader hose
by: Bill
The part in question is the unloader valve hose, running from where the air from the pump enters the tank and over to, and inserted into, the bottom of the pressure switch unloader valve. The pressure switch on this model has the unloader valve built into it, and the connection for the tube is in the bottom of the switch.

In trying to resolve this same scenario on one of my compressors, I couldn't find the OEM equipment either. Nor did I have any luck bending soft copper to replace the worn tube, as I didn't have a tube bender, and the copper kinked badly.
So, I visited the local industrial compressed air supply shop – they sell valves, cylinders and such like, along with a wide range of instant fittings.
I think you will find that the fitting size on your compressor is 1/4″ NPT.
If you acquire two female 1/4″ instant fittings (either straight or elbow depending on how much room you have to install them, and a length of 300 PSI rated urethane or high heat tube from the compressed air shop, you can use this as an alternative to trying to acquire the exact OEM replacement.
Worked for me, anyway.
I've added a photo of the compressor with the straight instant fitting on the unloader hose connection at the tank fitting, and the other end of the hose inserts into the fitting I installed on the bottom of the pressure switch. I used a 90 degree swivel elbow to make plumbing the tube easier for me.The photo I uploaded is the one with the blue tube.
Cost, they gave me the tube free from a sample, and I believe the two fittings needed for my compressor were under $8.
---
New comment? New question? Please add it here along with photos to help others help you with your compressor and equipment problem!