Hey! This site is reader-supported and we earn commissions if you purchase products from retailers after clicking on a link from our site.
The compressor stopped building pressure?
by Revello
(Bahamas)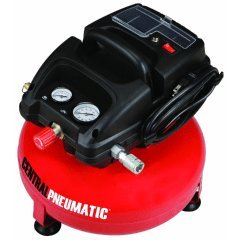 Pancake Air Compressor, Oilless 1/3 Horsepower, 3 Gallon, 100 PSI (photo: www.harborfreight.com
Had a CP pancake compressor for about a year now. Worked very well with light nailing jobs. Just recently was doing a project and the compressor stopped building pressure. The motor runs and everything seems and sounds to be running regularly but there is no build up of pressure to the tank. Is there any parts or kits that I can replace to have it work again?
___________________
Hi Revello…
Could be a valve issue, a gasket blow out, or a couple of other things.
See the link to the appropriate page from the troubleshooting section from the site map.
I suspect there may have been a kit. Your logical source is Harbor Freight, and you will need your model and serial number ready when you contact them.
Or, find out where they send their air compressors to be fixed under warranty, if they do, and contact those folks directly.
Also, your post is now live. Maybe another visitor can direct you to parts for your compressor by adding a comment here.
---
Central pneumatic air compressor won't build air pressure?
central pneumatic air compressor won't build air pressure
oil lubricated air compressor will not build air pressure past 40psi and runs continually. when i shut it off nothing leaks out.
________________
Hi there. Did you get the chance to look at the things to check on your air compressor when it runs and won't build air pressure? That information is found in the troubleshooting section, under 'compressor runs but will not build pressure'.
There are typically about four things that could be the cause. Bad power supply, intake valves, pressure valves, gasket failure or piston seals.
It could also be a partially blocked intake filter, though that is not as common.
Since I don't know what you have checked, I don't know how to advise you about where you go from here to resolve your air compressor problem.
Please post a comment letting me know what you have checked so we can figure this out together.
---
Have your own question about The Central Pneumatic air compressor stopped building pressure? Please add you comment here along with photos to help others help you with your compressor and equipment problem!