At what pressure is my Craftsman Model 919.167783 supposed to automatically shut off?
by Mark
(Tamaqua, Pa.)
I got this unit for free.
The label states 175 psi MAX.
I am wondering at what pressure is it supposed to automatically shut off at?
I made sure there was no water in the tank, and fired it up. It ran nice and quiet and built good pressure. However, I began to panic when the pressure needle reached 150 psi, and I shut it off. Am I just being paranoid? Should I just let it run? I'm confused.
_______________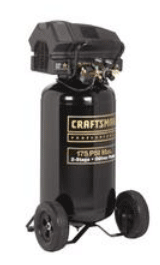 Free is a good price, and particularly, when the air compressor runs so well.
The approximate cut in pressure is 145 PSI and the approximate cut out pressure is 175 PSI, Mark.
This site provides pages of information to help you understand your air compressor better. Enjoy the information that is here and be sure to add a comment if you have another question.