A Senco PC 1131 air compressor won't turn on (start). I've had the compressor a little over a year and used it about 5 Times; so it is relatively new. I tried turning on today at room temp and nothing happened. The gauges read "0" (zero). I've released all the air out of tanks thru pressure relief valve.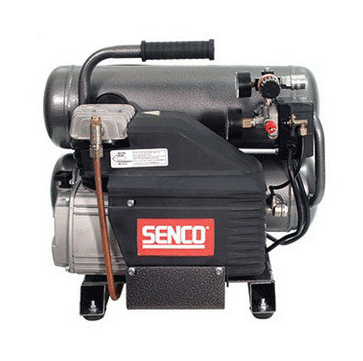 Plugged the unit into various 20amp outlet throughout the home, still no luck. Switched it on and off 40 to 50 times. No luck.
I've order a replacement pressure switch to see if that works. Do you have anymore ideas I should try to get it going? … by Harry W Munoz (Rosemead, CA)
……….
You've got power to the power cord Harry, as you've tried numerous outlets.
Have you checked to see if that power is getting to the pressure switch and then flowing past the switch to the motor when the tank is empty?
Please let us know, and also, check out the troubleshooting page links to pages about why air compressor won't start for more info. Bill
……….
Depending on how you measured, that suggests there is no ground return. See if you have continuity from the the switch connections to the plug prongs. You're in Rosemead, so that would be the white wire to the wide blade on the plug. Doug from s.d.ca.