Regulator leaking air – rubber fitting inside needs replacement.
by john
(germantown, md)
Hello, I have a 240volt 33 gallon craftsman air compressor 919.152932, that builds up pressure fine however air is leaking out of the regulator (AC-0007). I dissembled the regulator and there is a rubber fitting inside that I would like to replace before replacing the complete regulator. I cant seem to find the part and have googled till my fingers hurt.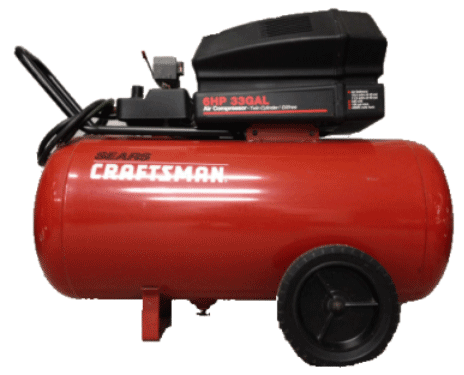 Thanks for any help you can provide!
John
________________________
John, good luck on that hunt. I haven't seen a regulator repair kit, and I suspect, if I could find one, that it might equal the cost of a new regulator, not to mention the labor time to tear down and reassemble.
I wonder if the rubber fitting you refer to is the diaphragm, and if so, this is a wear item and over time, all of them will fail, although not too often.
Tell me about the leak. Is it constant, and if not, what is happening on the compressor when the leak occurs?
---
Model no. 919.721980 fan caused vibrations?
by Blake Farren
(Kamloops, British Columbia, Canada)
I replaced the fan..part no. ACG-22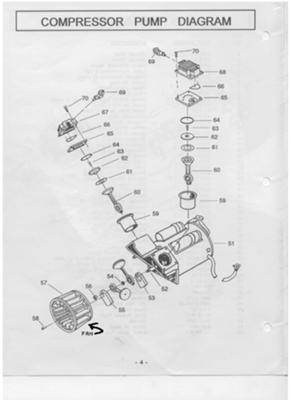 Now I have a significant vibration when running. When i manually rotate the fan is moves slightly up and down. I would have expected it to rotate symmetrically.
__________________
Blake, at the risk of stating the obvious, vibration is caused by a dynamic, unbalanced load.
If it didn't vibrate before you replaced the fan, and you changed nothing else but the fan, then it's got to be the fan.
Can you observe the operation without the cover to try and pinpoint the source, for example, is a blade bent?
---
Craftsman 4hp check valve
by Ronal J. Mele
(New Hartford,Conn.)
Bill,
Found out that My problem is not my pressure switch but maybe the check valve. Where do I find its location?
My unit is an older Craftsman 4hp 20 gallon capacity.
Off of the pressure switch the 1/4 " line runs from the unload er inlet to the head of the compressor. So where would this check valve be located?Thanks
Ron
______________________
Hi Ron. I don't know if you posted a question earlier, as there is no thread for me to follow our conversation if you did, and I get lots of questions.
Regardless, if you go to the CHECK VALVE page, all information about location and what it does is there. Have a look and post a comment if you still need help, K?
---
919.724121 model number can't be found in U.S.
by Angus MacDonald
(Freeland, WA USA)
I picked up a craftsman horizontal air compressor at Madison's on-line auction from liveauctionworld.com in Abbotsford, B.C. Canada. Along with a few other products. I live in Washington state.
After winning the auction I made the trip over the border and picked up my treasures. Most of the time all is O.K. This time however my Craftsman compressor has major missing parts! No problem, I will just get them on-line. So when I look for parts from Sears, the search for my model number can NOT be found. Is there a difference between USA and Canada model numbers?
My I.D. plate says 150psi, 3hp, 15gal, model number 919.724121 8.6cfm pump D27427 serial number 2402115593 120v, 60hz, 1ph, 13amp 04-23-04.
I'm kind of at a loss as what to do. Fix it or junk it? I can take some photos if needed.
I was just looking for a manual of parts so I could replace the missing stuff. Tank looks good and has some sort of oil free looking pump with a hard tube coming out of it that has been disconnected from something. It has two openings on the tank with nothing screwed into them. No pressure regulator or pressure switch of any kind and the main plug and cord is with the unit but not connected to anything.
________________
Hmmm. Well I can tell you that your air compressor was manufactured between 2002 and 2005.
I can also tell you that this model of air compressor had a safety recall due to an overheating motor.
The last tidbit I can provide was that this compressor was manufactured for Craftsman either by Porter Cable or Devilbiss.
It's these folks that I would chase down for more information, and, have a look at this:
https://www.portercable.com/SafetyAnnouncements.aspx?BlockID=08daef05-5247-4e0a-aa97-0768f27086fa
---
New comment? New question? Please add it here along with photos to help others help you with your compressor and equipment problem!