There have been many folks that wish to inquire about why their Quincy air compressor not turning on and other questions along those same lines. This article will present some of the reasons this may be happening and provide Quincy air compressor troubleshooting suggestions to resolve those issues, along with existing reader problems.
Table of Contents
Reasons Why Your Quincy Air Compressor Won't Turn On
The main reasons why your Quincy air compressor not turning on is likely to be due to any of the following reasons, accompanied them are some tips on what to do:
Power issue
Fuse or breaker blows
Faulty pressure switch
Faulty thermal overload switch
Faulty unloader valve
Insufficient oil
You should avoid using power bars and power strips. If the fuses are faulty, you will need fuse replacements as circuit breakers will trip off when a power surge blows their fuses. If you suspect a faulty pressure switch unplug the Quincy compressor from the electrical outlet before opening the drain valve releasing the air from the tank down to zero and then closing the drain. 
While checking the pressure switch, also inspect the unloader valve. Finally, check to see if the compressor has insufficient oil. Check the oil level, and inspect the underneath of the pump area for any potential leaks.
Please visit our Air Compressor Won't Start – Ways to Fix Air Compressor Won't Turn On Problems guide for more detailed Quincy air compressor won't start troubleshooting & fixes!
Reader Questions & Responses
Quincy 60 Gallon Air Compressor Won't Start – Quincy Air Compressor Troubleshooting
Question
Bought a new Quincy 60 Gallon Air Compressor and won't turn on.
After purchase, installed the compressor in the garage approx. 6 feet from the electric panel.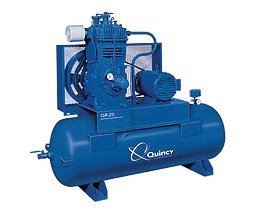 Used 12/3 wire and installed a dryer outlet. The compressor did not come with an ext. cord so I had a dryer cord approx. 6 feet long.
Wired the compressor using the black, red, and green wires in a 120/240-volt configuration. Black and red to seperate line terminals and green to ground screw. The white wire is not used in this type of wiring so it was capped off in the compressor switch cover.
I switch the double pull 40 amp breaker on and turn the switch to Auto and nothing.
Is there a way to bypass the pressure switch to determine if it is bad?
The compressor motor doesn't even hum but there is power at all terminals when tested. Any suggestions?
Response
Just to be sure – when you checked Quincy 60 gallon air compressors power, you see 120 to ground on red and black, and 240 or so between red and black, right?
If so, I'd pull the cover on the pressure switch. The few I have seen have a button near the adjustment screws. If yours does, try pushing the button. The compressor should start.
Let us know if that helped, will you?
---
If you have any questions regarding the Quincy air compressor won't turn on, please leave a comment below, with a photo if applicable, so that someone can help you!