by Dave
(Edinboro, PA)
Bought a new Quincy single phase 60 Gallon Compressor and won't turn on.
After purchase, installed the compressor in the garage approx. 6 feet from the electric panel.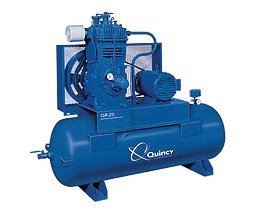 Used 12/3 wire and installed a dryer outlet. The compressor did not come with an ext. cord so i had a dryer cord approx. 6 feet long.
Wired the compressor using the black, red and green wires in a 120/240 volt configuration. Black and red to seperate line terminals and green to ground screw. The white wire is not used in this type of wiring so it was capped off in the compressor switch cover.
I switch the double pull 40 amp breaker on and turn switch to Auto and nothing.
Is there a way to bypass the pressure switch to determine if it is bad?
Compressor motor doesn't even hum but there is power at all terminals when tested. Any suggestions?
________________________
Quincy won't turn on
by: Doug in s.d.ca
Just to be sure – when you checked power, you see 120 to ground on red and black, and 240 or so between red and black, right?
If so, I'd pull the cover on the pressure switch. The few I have seen have a button near the adjustment screws. If yours does, try pushing the button. The compressor should start.
Let us know if that helped, will you?
---
New comment? New question? Please add it here along with photos to help others help you with your compressor and equipment problem!