by Tom
(Stuart, Fl. USA)
I have a central pneumatic 6 gallon 150 psi air compressor.
The prv began to blow prior to the compressor shutting off. I purchased a new 150 psi prv and same thing happened.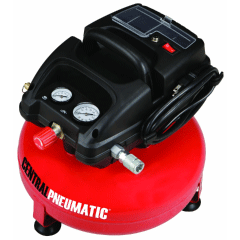 I switched the gauges and still the same issue.
I then removed the prv and plugged it and the pressure switch shut the compressor off at 153psi.
I then purchased another new prs and the prv still blew before the compressor shut off. I plugged the prv hole and tested the new switch and the compressor shut off at 153 psi.
Seems like the prv needs to be more then 150psi seeing as all else works ok. What do you think. Install a 160psi prv?
Thanks, Tom
______________________________________
PRV cracking open
by: Bill
Tom, you don't say what model of Central Pneumatic compressor you have. What is / was the normal cut out pressure setting for your compressor before the PRV issue?
The compressor was working fine up to the time the problem appeared?
If the compressor is cutting off at the same 153 PSI rating as before, and the compressor is rated for 150 PSI cut out pressure, then the pressure switch is working fine. It is not unusual for a general purpose air gauge to be out of true by up to 5 PSI either direction.
If the PRV is letting go at 150 PSI, I suspect that the original was built to crack at 160 PSI or 165 PSI, but some sort of contaminant got into it and that reduced the cracking pressure. I also suspect that the "batch" they are selling you from, if rated for 150 PSI, are not, and I hope you are able to return them.
Certainly, if my compressor was rated to run to 150 PSI before cutting out, I would have no problem installing a PRV that cracks at 160 PSI on my compressor.
Did you do so? Did it solve the problem? Thanks.
---
New comment? New question? Please add it here along with photos to help others help you with your compressor and equipment problem!