I have a compressor with a Campbell Hausfeld pump model TF 0018, I'm looking for a parts list and a location to purchase parts. Any assistance is appreciated, says Greg A.
I would like to help a bunch, Greg, but cannot find this particular compressor online. It would have been of great help for all of us had you uploaded a couple of photos of your compressor with your post.
I did find this which is available from a variety of sources online.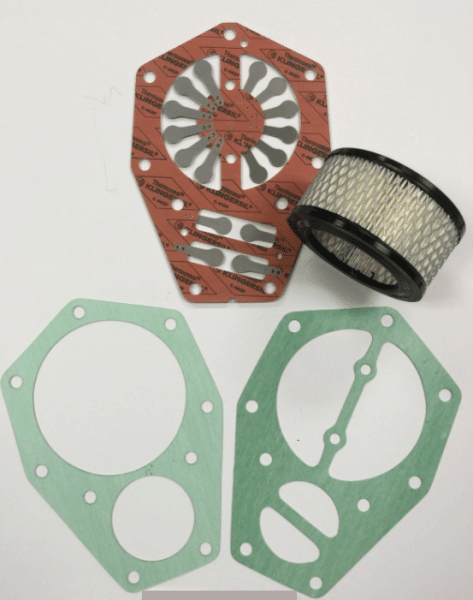 So, if what you are looking for is a pump rebuild kit, Google Campbell Hausfeld Speedaire TF Series Pump Head Rebuild Kit will help find it.
No joy on the parts list either, though, of more importance may be, what parts are you looking for?
Is TF the pump model?
Another thing is that the identifier TF may be the pump only. Is there another model on the compressor, possibly starting with a WL ? If so, what is the full model number. That may help identify the compressor, and rebuild kit with parts list a little easier.
What do you need to repair your TF compressor?
Compressor suppliers rarely manufacture all of the components in their compressor. Here are just a few items which are common to many compressors and for which after-market sources abound and be interchangeable with those on your compressor:
pressure switch
tank check valve
regulator
gauges
pressure relief valve
couplers
manifolds (can be custom assembled from standard brass fittings)
fuses
gaskets (can be made from high heat gasket material)
flapper valves (simple flapper valves can be cut from spring stock)
piston rings (can be sourced directly from companies in the business of rings – just need to measure the old ones)
If you care to add a photo or two of your compressor in a comment on this thread, that will help. Or, list in a comment the parts you are looking for, and all of us will see what we can do about finding them.